Kopparberg is introducing a new Hard Seltzer range to the market this summer.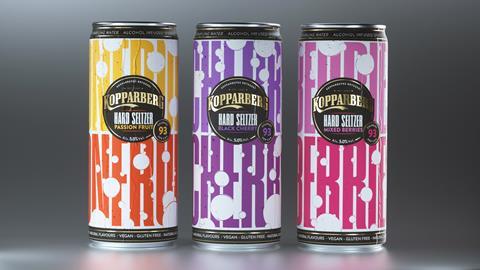 The new range, available in three fruit flavours with an abv strength of 5%, is supplied in 330ml cans with an rrp of £2.20.
The passion fruit, black cherry and mixed berries varieties are low sugar, low carb, gluten-free and vegan-friendly, and the hard seltzer category is expected to grow strongly this year with a particular appeal to young adult alcohol drinkers.
Head of marketing Rob Salvesen commented: "As Kopparberg continues to diversify its portfolio, the brand needs to evolve with consumer trends and tastes.
"Hard seltzers are already the youth generations drink of choice in the States and we wanted to make sure Kopparberg lends its big-brand credentials and flavour expertise to the category as hard seltzers land on our shores.
"We wanted to give consumers the refreshing, fruity flavour they've come to expect from Kopparberg, whilst delivering all the clean, low calorie promises of a hard seltzer."
Kopparberg Hard Seltzer will initially be available in Tesco and Morrisons later this month, but the company hopes to roll the products out via wholesalers during the summer.
Convenience retailers wishing to stock the product are encouraged to contact the company via a new email account specifically for the convenience channel: convenience@kopparberg.co.uk.