Appleton Special and White rums have been rebranded as Kingston 62.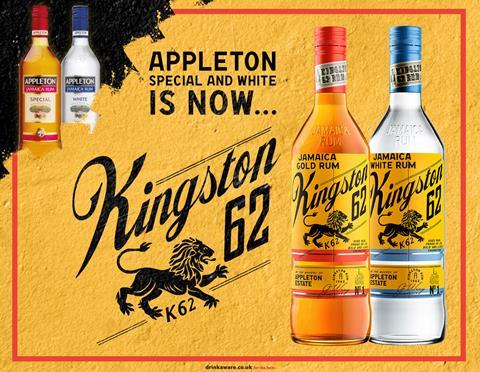 The transition to Kingston 62 in the UK follows the successful rebrand in the product's native Jamaica earlier this year. Although there is a new name and look, there is no change to the recipe or abv strength. The Appleton name will in future only be used for premium rum products such as Appleton Estate Jamaica Rum.
Pos material will be provided for a limited time at selected cash & carries to help retailers communicate the transition from Appleton to Kingston 62 in-store.
Kingston 62 Gold and White 70cl are now available via the wholesale channel, with a rrp of £17.50 for Gold and £16 for White. The 35cl version of Gold will be available in August (rrp £10).
The rum category is increasing in popularity in the UK, recording 13.1% value growth in the Off-Trade compared to last year, reports brand owner Campari. Rum also has a significant penetration amongst younger consumers - with 70% of spirits drinkers aged 18-24 drinking rum, rising to 79% of 25-34-year-old spirits drinkers.
Nick Williamson, marketing director at Campari UK, commented: "The new-look Kingston 62 celebrates its Jamaican heritage from the prominent "Jamaica Rum" embossing showcasing that the liquid adheres to the highest standards of rum production, to the Lion branding symbolising the strength, courage and pride of the Jamaican people.
"We are proud to bring Kingston 62 to the UK market - a unique and distinctly Jamaican brand that delivers the great quality and taste that fans of Appleton Special & White have come to expect."