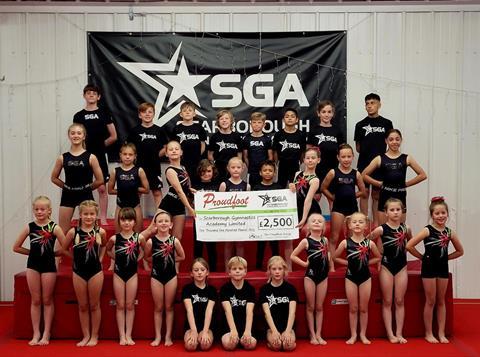 The sale of reusable carrier bags in Scarborough retailer Proudfoot Group's stores has raised £2,500 for Scarborough Gymnastics Academy, which will help fund new equipment for its members. The funds were raised by customers purchasing reusable shopping bags in Proudfoot's four supermarkets, based in Newby, Eastfield, Seamer and Manham Hill, over the last three months.
Proudfoot stores have been raising money for local good causes via the sale of reusable bags since 2015 and the latest donation means the retailer has donated more than £75,000 in funds raised to charities and other community groups in the area. In addition, Proudfoot stores have supported over 200 local causes with more than £125,000 in donations raised through Nisa's Making a Difference Locally charity to date.
Scarborough Gymnastics Academy provides a safe, child-friendly environment in which members can participate in gymnastics activities under the guidance of qualified coaches. Evy Walker, a coach at Scarborough Gymnastics Academy, said: "We would like to say a huge thank you to Proudfoot for their generosity and support of Scarborough Gymnastics Academy through the Proudfoot carrier bag charitable donation.
"The kind donation given to the club with the support from the local community is greatly appreciated and will be a huge benefit to the club. We will purchase some exciting new equipment which will benefit the current and future members taking part in the sport for many years to come."