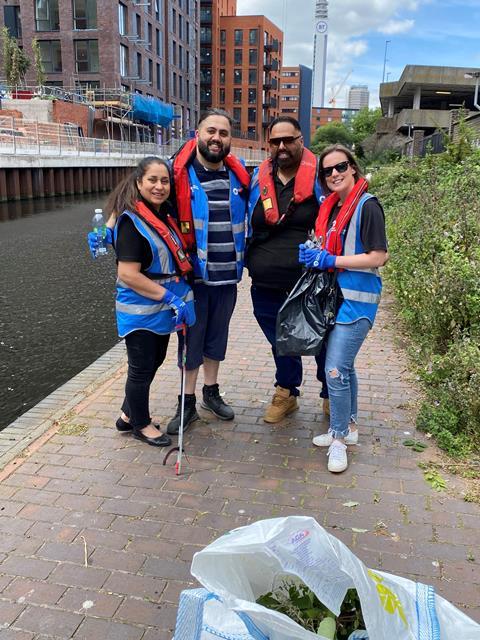 Coventry-based One Stop Mount Nod owner Aman Uppal and Bobby and Narinder Singh of BB Nevison in Pontefract, Wakefield, met with Coca-Cola Europacific Partners (CCEP) GB, in Birmingham earlier this month to help clean the canal towpaths.
The firm is working with the Canal & River Trust on an FMCG sector initiative to enhance areas along the Birmingham canal network ahead of the Birmingham 2022 Commonwealth Games.
The initiative has seen more than 60 CCEP colleagues, along with some of their customers, and teams from the Canal & River Trust, volunteer across six events in Birmingham. CCEP will also provide funding to the project and is supporting Birmingham 2022 in its ambition to be the first Commonwealth Games with a carbon-neutral legacy.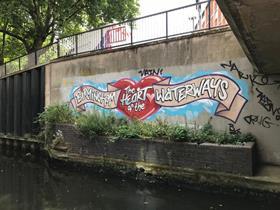 Working on Perry Bar Lock Flight on the Tame Valley Canal and Farmer's Bridge Lock Flight and Aston Lock Flight on the Birmingham & Fazeley Canal, volunteers will be painting and removing graffiti from the lock flights, litter picking along the towpath, as well as planting and managing vegetation.
The project has been taking place throughout July, ahead of Birmingham 2022, which will see the canals used as key sustainable transport routes by the million spectators expected to attend the Games.
Amy Burgess, senior external communications manager at CCEP, who carried out the regeneration work with the retailers, said: "A big thank you to Aman Uppal, and Bobby and Narinder Singh for joining Coca-Cola Europacific Partners in supporting the Canal & River Trust in improving Birmingham's waterways in the lead up to the Commonwealth Games."
Bobby and Narinder thanked Burgess for the opportunity to contribute and Aman said: "It was a pleasure to be part of the team and doing something meaningful."
Holly Firmin, senior community partnerships manager at Coca-Cola Europacific Partners (CCEP) GB, said: "It's fantastic to see our sector come together on this initiative and use our collective resources to make a real difference to Birmingham's waterways. At CCEP, we believe strongly in the power of partnerships and are always looking for opportunities to work with our customers and charity partners to drive change.
"This project is helping to get Birmingham Games-ready ahead of the arrival of all the spectators and athletes, allowing the city to put its best foot forward and show off the thriving community spaces found here. I look forward to seeing what can be achieved when we all work together."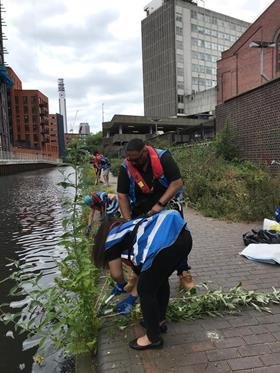 Ian Lane, head of operational projects for West Midlands at Canal & River Trust, said: "Birmingham's historic canals are the city's blue and green corridors and beautiful places to spend time. Our research shows that being by waterways can make us feel happier and healthier, as well as helping to combat obesity and stress, and they are filled with biodiversity, acting as habitats to a huge variety of plants and animals. Birmingham's canals are even helping to combat climate change by reducing urban temperatures, providing heating and cooling to homes, as well as forming a key element of the city's sustainable transport infrastructure for both people and freight.
"The work is already making a significant difference in transforming the waterways, and we're grateful to CCEP, as well as its customers and partners who are getting involved, for all the support they've given to this project so far."