Retailers discuss their relationships with their groups and what keeps them loyal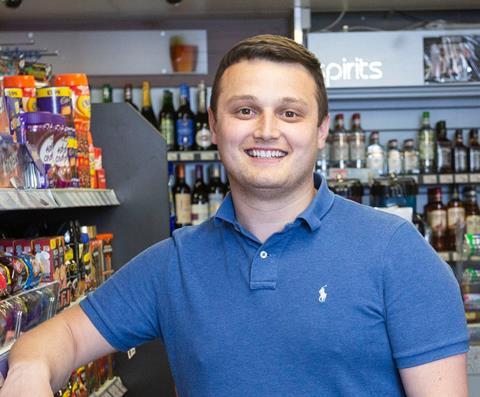 Lewis Prager, Best-one Preens, Wakefield, West Yorkshire
It was Best-one's enthusiasm to help him develop his offer that drew Lewis to the symbol back in 2019. "I looked at quite a few options and Best-one were offering the most support from a business development point of view," he says. "I wanted their experience on planograms and the data they can offer on the Best-one portal. They really wanted to get involved in the refit and they were really hands on. The others were 'pay us your fee and bugger off!'"
He is full of praise for the group's retailer portal and rebate scheme. "There's clarity from them on how we hit our rewards and rebates. The reward scheme is very achievable and realistic. You don't have to jump through hoops - it's clear cut and I can monitor it on my portal. I can buy stock anywhere so there has to be an incentive [to buy from Best-One]. On my portal the rewards update every day at midnight so I can see where I am for compliance. There's only six [criteria] you have to hit. There hasn't been a time when I didn't get a rebate - since I've been here, we've smashed it."
The symbol has also been quick to respond to problems. "When things go wrong I can just send a Whatsapp and it gets fixed there and then," he says. "I really like the personal approach. I think you get a lot more from the BDMs and Bestway if you engage with them. It's critical having that relationship, we have a coffee and sort things out.
"They're not in a corporate world like other groups - it's still normal people I can speak to. I can speak to my BDM, I've spoken to the head of Best-one. They're a retailer-orientated cash and carry group, not just box shifting. I go to Batleys in Leeds and people know me. When you're spending thousands and thousands a week, it's nice to be appreciated and greeted on first name terms."
He claims that the group listens to his concerns and offers solutions when possible.
"We weren't happy with our deliveries," he says. "They were coming really late [in the day]. We have a college nearby so afternoons are very busy and getting six pallets dropped in the afternoon is chaos.
Best-one took Lewis' feedback onboard. "Now we have a morning slot, they're always here at 9:30," he says. "It didn't happen overnight, they rejuggled the route and then got it sorted. There's always going to be issues in this business, but it's how they overcome them."
One area where the company needs to up its game is its own brand offer, states Lewis. "They're own brand products need improving," he says. "The quality is miles above anyone else's - Best-one kitchen roll is as good as Plenty and it's a pound. I just wish they had a larger range with own brand shampoo, and a 2l pop range."
However, he adds that the own brand products that are available offer a good return. "People are price sensitive at the moment and Best-one products are great for a price point while maintaining margin. Retailers are here to make a profit, and you're getting a decent rebate too."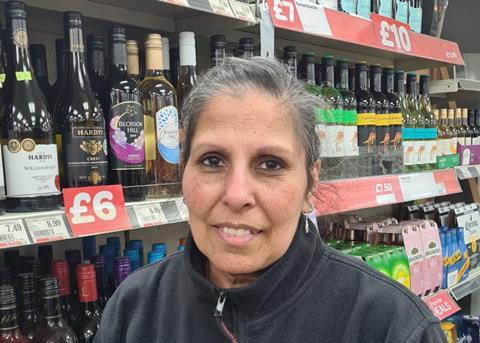 Gita Kaler, Spar Hamstead, Birmingham
Gita has been at her store for 28 years and is very satisfied with the service she has received from Spar. "They've been very helpful," she says. "Any problems we have with anything - the till sorts our orders, and we ring the area manager and he helps out."
She has no complaints, even during the current shortage where stores across the nation have been suffering from stock shortages. "They're perfect," she says. "We would have left otherwise!"
The reason for her satisfaction lies largely in the symbol's strong retailer communications. "In our back office, when we're ordering certain items there's always a label against it to explain if it's available or not," says Gita. "If there is an issue they've rung us to say which products we will and won't have. Everyone has been affected by supply shortages with coming out of the EU and the driver shortage. Some things we still can't get through Spar and even in the cash & carries, but we wouldn't blame them for that."
A constant stream of phonecalls and emails means that Gita doesn't end up with any unexpected shortages or delayed deliveries. "I can't really fault them," she says. "The allocations are coming through. If there's a late delivery they always ring us to say. On our back office we have a tracking page to track our delivery on there - when it's coming and what time. If there's been an internet problem and they can't put it on the screen, someone will ring. And if there are any problems with the system they can't sort out on the line they'll send an engineer."
She is happy with the promotional offer and uses her experience to select the deals she knows will work best. "When products are on offer it's a good buy, but everything can't be on offer all year," she says. "We just ride with it. We have to pick and choose the things we think will work best. We know what will and won't sell."
According to Gita, Spar's greatest asset is the strength and consistency of its brand. "The best thing is it's nice to be with a symbol group that is recognised - everybody knows Spar," she says. "If other stores are running out, we'll definitely have it. I don't know if other shopkeepers are the same, but we do keep stock rotated and ordered on time. If we can't get a product then Spar sources an alternative. We've been with them for so long, we know all the area managers and there's always someone to help."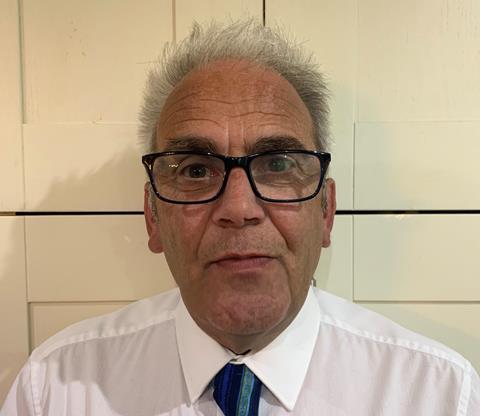 Gary Batten, two Phoenix-branded Nisa stores in Cornwall
Gary feels that he is well looked after by Nisa. "Originally, I chose Nisa because the shop I bought six or seven years ago was already with them," he says. "But I've worked with them now for seven years and they've been so supportive in various ways."
He claims that the group is approachable. "At a district level, communication is excellent. They don't always have the answers, but they'll always call you back and they'll look into it," he says. However, he concedes that the Co-op acquisition has impacted this to a degree. "There's always someone there that listens," he says. "I think that's still in the ethos of the business, but I think Co-op in the background are trying to make it corporate. I don't think that Co-op understand the difference between corporate and independent business."
There have been some issues with communications with regard to deliveries. "For example, we had a chilled delivery at 10am and an ambient at 3pm, which were confirmed the night before via email," he says. "At 10am we got ambient and chilled on the same lorry. Something is missed along the line - whether that's to do with logistics or Nisa, they're lacking that information. It's not flowing as well as it used to. They've all got our mobiles. They could have deleted that off the app and just messaged to let us know - it would have taken 30 seconds."
However, he accepts that the driver shortage is a UK-wide problem and is impacting all retailers in some way.
Despite these challenges, Gary remains hugely supportive of Nisa because of its impressive IT system. "I'm still very loyal because of their IT systems - they work," he says. "When the stock turns up maybe 80% short. Say Cornflakes aren't available from Kelloggs, the suggested ordering will continue to order it until its available - that's the beauty of it. It's got to be the best out there."
He is also a big fan of the Co-op own brand. "The Co-op range is a massive game changer," he says. "I'm in a fairly unique position. In St Stephen village there's us and a Co-op so when the shares were sold to Co-op I was left with a dilemma - how am I going to compete? We knew they were going to kill off Heritage, so we put in Happy Shopper, Euroshopper and Discover The Choice. It had no impact at all.
"Last February we refitted the store and put the full Co-op range in, which was obviously a bit brave, a big gamble. The turnover increased by 40%. Is that down to the refit? Is it down to the Co-op range? The only thing I can presume is it's everything. We're thrilled to bits with it."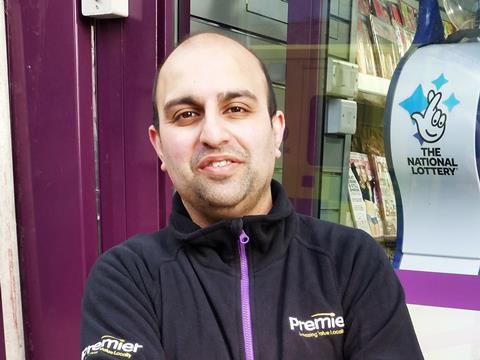 Meten Lakhani, St Mary's Premier, Southampton
Meten has no regrets about being a Premier retailer. "I've been supported very well," he says. "They've really looked after me, I've not had one issue at all."
Even during the nightmare year of 2020 where many retailers were stretched to their limits and exhaustion was at an all time high, he was still impressed with their service. "During covid they moved deliveries to suit me," he says. "We had issues whereby we were short on staff. We were opening later, so they'd deliver to us at seven in the morning, rather than midday so we had time to unload before opening the doors at 9am. That way we could manage even if we were short-staffed.
"They were really patient with us, delivering twice a day when we needed them. Martyn Parkinson [who was Premier brand director at the time] was brilliant." The change in delivery times not only aided the store during the pandemic, but also turned out to be a better way of working in general. "We've left it as a permanent change now," he adds.
He is satisfied that the group has made an effort to stay in touch with him throughout covid and during the current supply issues. "I have direct numbers and texts," he says. "Even if it's eight o'clock at night they'll text me and tell me if something comes in - we have that communication going. That's the main thing with all of it. It doesn't matter about face to face as much and I don't need a regular four week call, but if I need them, they're there. It's a friendship."
In terms of improvements, he'd like to see some changes made to the group's website. "I think the only thing is their website needs improving to put in real time stock levels, as when you do an order it's not always up to date, whereas Bestway's is," he says. "With Booker you get a little surprise when something doesn't turn up!"
But this is a minor gripe. "I'm always loyal to them," he says. "They've been second to none."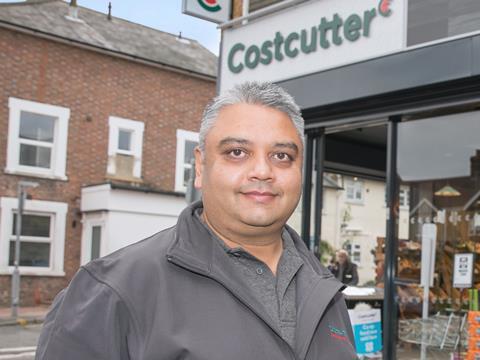 Peter Patel, five Costcutter Stores across Essex, Derby, London and Kent
It was Peter's desire to minimise stockholding that saw him switch over to Costcutter three years ago. "They offer lower minimum order quantities so we could have deliveries every day," he says. "We're trying to reduce stockholding." Instead, he has six day deliveries, which he finds greatly assists with availability. "If something doesn't come in today, there's a good chance it will come in tomorrow," he says.
He's satisfied that Costcutter is working hard to ensure his needs are met. "We've had good support throughout covid and throughout the period now. When supply issues affected us with bread and milk our BDM has sourced it from elsewhere," he says. "Frozen food issue with Nisa, but Costcutter has sorted it and the customer doesn't know any different."
He speaks to the group on a daily basis. "They're very good at communicating - we'll have a conversion every day with my BDM - to see how we are, how our staff are," he says. "It's not always 'what can we sell to you this week?' It's taking five minutes out just to chat - can we do anything extra? Sometimes it's nice to have moral support."
The main area he thinks Costcutter could improve on is their response times to certain queries. "That's my only negative - it takes them a lot longer to react," he says. "We have to appreciate it's a big organisation, but that does cause frustration - take the planograms for the promotion bays - we used to get a hard copy, now you have to print it off, but all stores only have black & white printers. We've asked them to put them back in the promo box. it will take a while for them to readdress that."
He would also like a more consistent approach to seasonal events. "With Easter, Halloween and Xmas - the stores should have the same packs for decoration," he says. "Where Costcutter are trying to present a corporate look and image the marketing needs to follow."
Peter gets on really well with the Costcutter team. "The people are the best thing about my symbol," he says. "If you enjoy working with the people it makes it a bit easier."