A campaign by Budgens retailers has raised almost £100,000 for the Ukraine.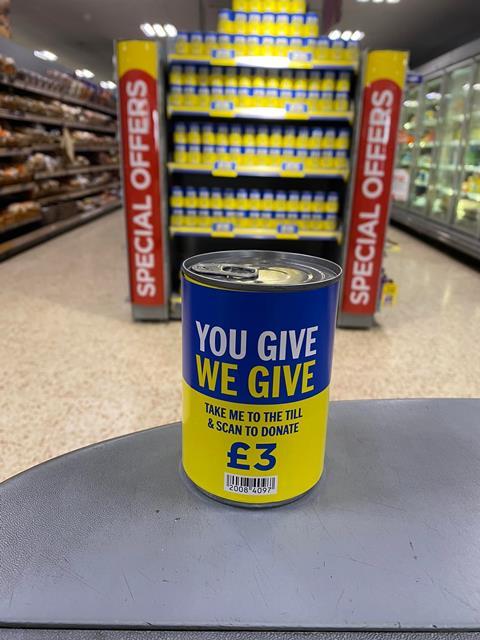 Ten independent retailers came together to launch the 'You Give, We Give' campaign in which customers were asked to purchase any blue and yellow symbolic cans with a price mark £1, £3 & £5, with the retailers matching these donations. All donation money would be spent on essential food and medical supplies and delivered straight to Ukraine by selected aid partners.
The Budgens Retailers were: Rob Avery, Jonathan Frazer, Paul Gardner, David Knight, Kanna Mahunda, Tom Orford, Goran Raven, Paul Wilks, Chris Shelly and Dary Sweeney.
Dary Sweeney, owner of Sweeney's Budgens in Wendover, explained how the campaign started. "Alex, one of our store supervisors, advocated we should help a local group to raise money to help the victims of the war in Ukraine. We did this but felt we should do more. I spoke to a couple of other Budgens retailers, they wanted to help, so we came up with the You Give We Give campaign.
"By the time the campaign started in store we were worried that customers would struggle to donate, as most had already made donations to charities supporting Ukraine and because the cost-of-living crisis was beginning to bite, but our fears were unjustified and our awesome customers really rallied behind the fundraiser. The customers of the ten retailers and the match funding raised a staggering £97,315."
£15,315 of the money raised has been given to British-Ukraine Aid, which has used this money to purchase medical aid for Ukraine. The remainder of the funds raised has been split between two British charities working in Ukraine; Support the World and Chernobyl Children's Lifeline.
Dary said the next stage is getting the aid to those who need it. "Next week the tricky job of getting the food aid to Ukraine starts," he explained. "We really need to thank Support the World, a small British charity, as they have the logistics skills and contacts in both the Polish and Ukrainian governments to get the aid to where it needs to be in Ukraine."
He also praised Dan Zenchuk, managing director of Danzen Logistics Ltd, Damian Wawrzyniak, chef consultant and restaurateur and Darren Ferreday for their support with the project.