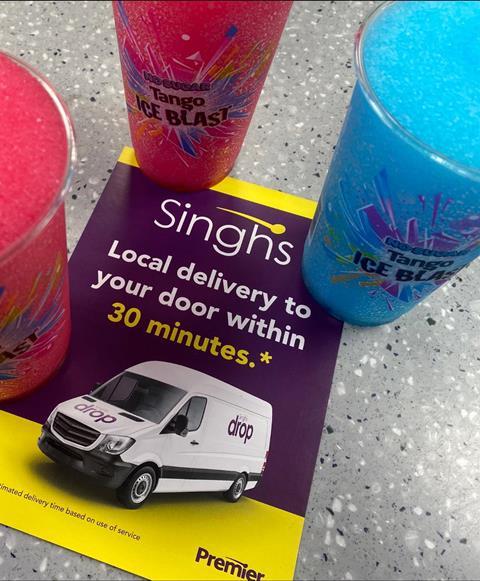 Singh's Premier has seen its Singh's Drop 30 minute rapid delivery service go from strength to strength. The service launched in 2020 and had amassed average weekly sales of £15,000 by 2021, increasing to £20,000 in 2022. By 2024, owner Mandeep Singh predicts that delivery sales will be higher than in-store sales.
"When retailers visit the store they're taken aback and when you get your phone out and show them your delivery numbers - they're like 'wow'," says Mandeep, who owns three stores with brothers Bal and Vrinder. "In their head they thought it was impossible, but it's not." He believes that anyone can make a success of such a service, provided that they are willing to put in the work.
Here's what Mandeep has gleaned so far:
1) Convenience is more important than price for delivery customers
Orders are placed via two links on the group's Facebook page for the Shirecliffe and Manor hubs (based in the Teynham Road and Manor Road stores). They are then picked, packed and delivered within 30 minutes via one of the companies eight delivery vehicles.
Mandeep claims that delivery customers are happy to prioritise convenience over saving money. He explains that the Singh's Drop delivery charge is £1.99 to £3.99, depending on a customer's distance from their chosen store. "What's amazing is that there are people that are closer to our Manor store and every day they're ordering on this link [for the Teynham store] and they're not looking at the delivery price," says Mandeep. "They're ordering from this store, which is £3.99, whereas if they ordered it from our Manor store it would be £1.99 [because it's closer]. In the customer's head it's about convenience and speed… When you're doing such a good service they're not looking at the delivery charge."
That's not to say that delivery customers aren't interested in deals. In fact, the store regularly runs exclusive promotions for delivery customers with incredible discounts, such as the new Kit Kat Chunky Salted Caramel Popcorn for 18p (rrp 60p). However, a minimum spend on deliveries means that, while a good deal may convince a customer to place an order, they will have to part with at least £10 to get it delivered.
2) A delivery customers' spend is three times higher than an in-store customer
Before launching the service, Mandeep concedes to being nervous about cannibalising his existing sales. "At first we were a bit scared - is it just going to be the customers who already come in?" But he quickly realised that he was on to a winner. "We did our numbers and [found] 90% of our delivered customers are new and they're three times bigger than our in-store customer. Why? Because the basket spend is three times bigger than in-store.
"How we look at it is, if we get 125 deliveries on average a day, that's 375 customers that would have to come in here and spend the average basket and to get 375 customers in store is impossible really. This is another route to market. It's something we're excited about, we've put a lot of energy into it."
3) Continuous, consistent promotional messaging is vital
The Singh's Drop logo is visible throughout the store, on signage, staff hoodies, the floor and the counter, as well as externally on POS and on the delivery vehicles, which are fully branded. The service is regularly promoted across various social media platforms. "[We're on social media] every day, maybe three times a day," says Mandeep. "Social media is really important." He focuses on Facebook, where the group has amassed a mind-blowing 28,500 followers, while Vrinder manages TikTok where nearly every post is receiving thousands of views. The group posts regularly about the delivery service itself, as well as promotions that are exclusive to delivery customers.
4) Managing deliveries in-house offers more control
When it first launched, the service initially used a cab firm, which would then be paid a percentage of each order, but found it was too slow. "We started with the City Grab taxi firm in Sheffield and the service was 45 minutes, it wasn't good enough," says Mandeep. He invested in three scooters and now has a total of eight vehicles. "It's non-stop all day from 9:30 in the morning to 9:55 at night," he says.
He claims that maintaining independence, rather than working with a delivery partner, is central to success. "You can't just say 'We're doing home delivery' and start linking up with the likes of Uber Eats and then they're too busy doing McDonald's deliveries - they're loyal to them," he warns. "They're never going to be loyal to us."
5) Communicating any issues to customers immediately is key
Of course, any delivery service worth its salt needs to offer high availability and punctuality. But when things aren't going to plan, Mandeep says that clear and timely communication is essential. "If we make a mistake or if we haven't got a product, the staff are trained to make a call and sort it out there and then - not in twenty four hours or in a week or two," he says. "If there needs to be a refund, we can get it done in one hour so the customer can buy it from somewhere else if we haven't got that product."
He has a clear process in place to ensure that customers are notified ahead of time if the 30 minute guarantee is going to be missed. "The 30 minutes is very important," says Mandeep. "In our heads it's 15 minutes. If we think '30 minutes', it could go to 45. If we think '15 minutes', then 30 minutes is the worst case [scenario]. If it starts getting close to 30 minutes [and the delivery hasn't been made] then staff call the customer and say 'we're really busy, but your delivery's on its way and it might be 35 minutes' and customers say 'don't worry about it', as long as you keep that contact with your customer."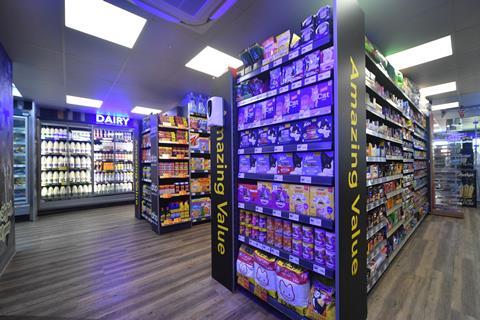 6) A convenience store is the ultimate delivery hub
Mandeep has considered the prospect of using a dark unit for deliveries, but for now he is adamant that the store is the perfect option. "People have asked if it would be better to buy another building to deliver from, but I look at it this way: These big companies - Getir, Gorilla - have they really got a hub with this many lines in? Is there a better hub than the store that we've got and I don't think there is."
Nearly all of the store's lines are available for delivery. "We'll deliver anything," says Mandeep. "It's about making the customer feel at ease and we've got to be the most convenient delivered business out there."
He adds that using his store as a delivery hub means he can keep the shop's offer fresher. "It gives the store more life, it helps churn the stock around quicker and you can start buying so many lines in bulk," he explains.
7) Maximise the hyper local opportunity
Sales have leapt up by a third over the last year, but Mandeep is hungry for more. "We've got to this number now, but we're not settling at that," he says. "Where do we get the next £5,000 from?" he asks.
He claims that despite the service being hugely popular, there are still people living within a couple of miles of the store that don't use the service. He is concentrating on growing his customer base within a three mile radius of the store before expanding his focus.
"There's a lot of work to do in the first, second and third mile and then we can start concentrating on four and five [miles] and open it up," he says. Mandeep is about to trial a 24 hour delivery service, which he is hoping to appeal to both existing and new customers who may find that the extended hours fit better around their lifestyle needs.
He claims that anyone can make a success of home delivery. "You've got to put the energy in and then the numbers speak for themselves," he says. "It's unlimited what you can do."