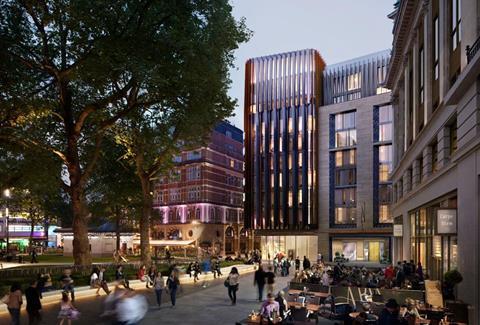 London's newest venue will be home to The Convenience Awards 2021.
On 14 September, the Londoner in Leicester Square will host the top awards in the convenience sector.
Set to open this summer, The Londoner has been named one of the top new luxury hotels in London and The Convenience Awards 2021 will be one of the first events to be held at this exclusive venue.
Editor of ConvenienceStore.co.uk Aidan Fortune said: "A top quality event demands a top quality venue, and it's only fitting that The Convenience Awards 2021 is being held at The Londoner in Leicester Square. This will be the first major face to face awards ceremony in the convenience sector for some time and we're looking forward to hosting the top names from the industry as well as recognising and honouring the winners of this year's awards. It's been far too long since we've celebrated the hardworking convenience sector in this way so don't miss out and book your place now."
The Convenience Awards 2021, brought to you by ConvenienceStore.co.uk, The Grocer and Lumina Intelligence, will be held on 14 September. Tickets are on sale now.
BOOK YOUR PLACE AT THE CONVENIENCE AWARDS 2021
The event is kindly sponsored by Bestway, Booker, Boost, Coca-Cola, Nescafe, Nisa, Premier Foods, SBF, Snappy Shopper and Spar.
This year's finalists will be announced very soon so check back on ConvenienceStore.co.uk to find out who the best retailers in the industry are.
The categories for The Convenience Awards 2021 are:
Community Retailer of the Year

Convenience Rising Star of the Year

Customer Delivery Store of the Year

Food to Go Store of the Year

Independent Convenience Store of the Year

Large Convenience Store of the Year

Multiple Managed Convenience Store of the Year

New Store/ Refit of the Year

Sales Colleague of the Year

Small Convenience Store of the Year

Sustainability Retailer of the Year

Retailers' Retailer of the Year

Convenience Retailer of Year
There are also research-based categories that will be calculated through shopper and retailer research powered by Lumina Intelligence's Convenience Tracking Programme:
The Retailers' Favourite Convenience Fascia for Category Support

The Retailers' Favourite Product Launch

The Retailers' Favourite Supplier Salesforce

The Shoppers' Favourite Convenience Fascia

The Shoppers' Favourite Convenience Fascia for BWS

The Shoppers' Favourite Convenience Fascia for Chilled & Frozen

The Shoppers' Favourite Convenience Fascia for Impulse Categories

The Shoppers' Favourite Food to Go Fascia

The Shoppers' Favourite Forecourt Fascia

The Shoppers' Favourite Managed Convenience Fascia

The Shoppers' Favourite Symbol Group