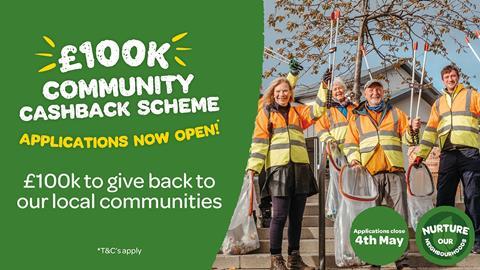 Spar has launched a new £100k Community Cashback scheme which will give grants to local voluntary or community organisations and charities who need it most.
The scheme allows shoppers from all over the UK to apply for a grant for an organisation or charity they feel deserves funding. All applicants need to do is share the exceptional contribution a local organisation has made to their community and what the grant would be put towards. Applications will run until 4 May 2022 via www.spar.co.uk/community-cashback
There are 30 grants available, covering all geographical regions across the UK. Amounts available are 5 x £10,000, 5 x £5,000, 5 x £2,000 and 15 x £1,000. Successful applicants will then be visited and awarded their grant from their local Spar representative.
The scheme is part of Spar's new brand positioning that was unveiled in January. The new brand positioning is called 'The Joy Of Living Locally' and this is being brought to life for shoppers in three ways: being passionate about local products and suppliers, offering value for money on customers' doorsteps and nurturing neighbourhoods.
The launch of the new £100k Community Cashback scheme will be the first initiative to launch the 'nurture our neighbourhood' pillar. The campaign will be supported instore with POS and on all Spar UK and RDC digital channels with paid advertising across social media.
Spar UK brand and marketing director, Suzanne Dover, said: "Spar believes in nurturing our neighbourhoods and supporting the communities we serve. One way we are helping to do this, is by giving back to local organisations who are actively working in these communities.
"Our £100k Community Cashback scheme will invest back into the local communities and provide deserving local organisations some extra financial help to support their aims in providing benefits to those communities.
"We know the importance of looking after our shoppers and this will help build and strengthen neighbourhoods. We look forward to helping thirty deserving causes over the next few months."