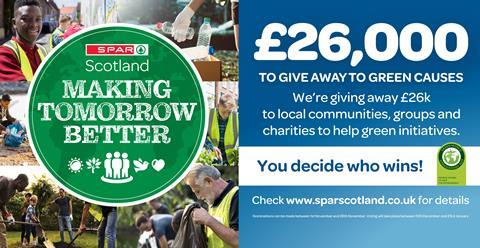 Spar Scotland has unveiled a community cashback campaign rewarding sustainablity, which coincides with the UK's hosting of the 26th UN Climate Change Conference of the Parties (COP26) in Glasgow.
The Scottish symbol group is donating £26,000 to 26 charities, community groups and projects across Scotland with each charity receiving £1,000.
Colin McLean, CEO of Spar Scotland, said: "We are asking customers, employees and the general public to nominate charities, community groups or projects. We are looking for local litter picking groups, planting trees and recycling initiatives, community social projects, green space developments and many more green ideas that happen in local communities around Scotland to support. They will then be in with a chance to receive a £1,000 cash donation from Spar Scotland."
Nominations will be shortlisted and customers given the power to decide who will get donations with a public vote.
The campaign is centred on Spar Scotland's three pillars of community, people and planet.
In conjunction with the community cashback campaign throughout November, the convenience store group will be including fun facts on how Spar Scotland stores and the team at the Dundee depot are changing processes and cutting back on waste.
The business has embarked on a number its own green initiatives including:
o Zero waste to landfill
o 660 tonnes of cardboard recycled
o CJ Lang Logistics team, is a Green World Ambassador with 100 trees planted this year in partnership with the Green Earth Appeal
o Washing 5,000 trays a week for suppliers which reduces the amount of plastic in our supply chain
o Having installed 37 Selectiva 4.0 battery chargers, CJ Lang & Son expect to reduce its CO2 emissions by 265,000kg and reduce energy costs and associated battery top up costs by around £110,000 in the next five years
o Since August 2019 working in partnership with Dundee Community Fridge around 40,000 free meals provided to date
o By partnering with the Healthy Living Programme for many years, Spar Scotland encourages school children to make healthy choices in their everyday lives
o Grassroots partners of the Scottish FA, Spar Scotland actively promote football to girls aged between 12 and 16 right across Scotland encouraging a healthy, active lifestyle
McLean added: "Corporate Social Responsibility sits at the heart of our transformation journey and with COP26 taking place in Scotland this year, we wanted to use the event as a platform to focus on improving the environment and social matters within the communities in which we operate. Our donations will hopefully help local communities and if successful we intend on making this an annual initiative and building on what we donate this year."
The campaign will be promoted in-store and on digital channels including website, social media, media screens and Spar Radio.