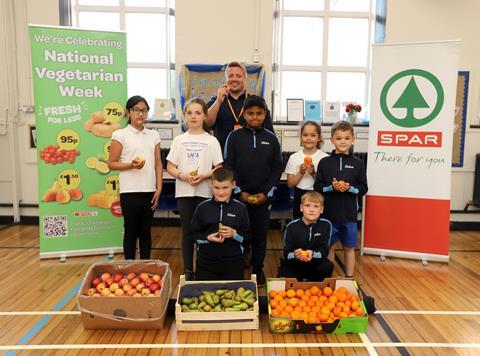 Children at primary schools in Cumbria and Lancashire learned about fresh food and the importance of a balanced diet during Spar's National Vegetarian Week celebrations.
Wilf Whittle, fresh food trading manager at James Hall & Co. Ltd, Spar UK's North of England wholesaler and distributor, was out and about last week delivering educational talks to children.
He visited Longtown Primary School, Cumbria, and Sherwood Primary School and Eldon Primary School, both Preston, Lancashire, on his travels.
Whittle shared fun facts and figures with children on a range of fresh produce during a series of special interactive assemblies and handed out a variety of high-quality fresh fruit including apples, satsumas, pears, and bananas.
He also highlighted several healthier and better value lunchbox alternatives to children, and donated Spar vouchers to the pupils to encourage spending on fresh products in-store.
James Hall & Co. Ltd owns and services two Spar stores in Longtown to support the rural community in and around the market town, while Spar has 35 stores in Preston postcode areas.
Whittle said: "Fresh food is my absolute passion, and I was delighted to visit the children at schools in Cumbria and Lancashire to interact with them during one of my favourite weeks of the year – National Vegetarian Week.
"The enthusiasm the children had for fresh food was great to see, and they had very good knowledge of fresh foods generally which was exceptionally pleasing.
"I was asked some really interesting and diverse questions, and the children gave some excellent answers when I quizzed them.
"After two years where we have not been able to get out into the communities we serve across the North of England, it was fantastic to be welcomed so warmly into the schools."
Jennifer Miller, 11, who is in Year 6 at Longtown Primary School, said: "Wilf's talk was really good and it was great to be part of the visit. One fact I learned is that carrots were originally purple."
Rajan Kurrie, 8, who is in Year 3 at Sherwood Primary School, said: "I learned a lot in Wilf's talk including where different fruits come from at different times of year, and what the most popular fruits are in this country."
Maliha Hussain, 9, who is in Year 4 at Eldon Primary School, said: "I am a vegetarian, so it is nice to be part of the celebrations for National Vegetarian Week."