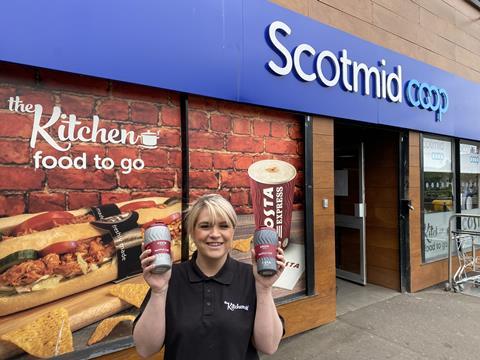 Scotmid Co-operative has become the first Costa Express partner in the UK to introduce reusable Costa Coffee travel cups across its 200-store estate.
The stainless-steel reusable Costa Coffee Waffle Travel cup will be now available to buy from at all Scotmid tills and fit both a Regular and Large Costa Express drink. With every purchase of the reusable cup, the customer will receive two coupons for two free Hot Filled Breakfast Rolls of their choice.
The move is also designed to encourage Scotmid customers to consider the small changes they can make themselves, to help reduce the amount of waste being generated from single use items.
Danny Scobie, head of food to go at Scotmid said: "We are continually looking for ways we can improve, enhance and expand our customer offering on many different levels. Providing more sustainable options for customers in store has been a key focus for Scotmid and, given our close working relationship with Costa Coffee, we are excited to be the first retailer in the UK to introduce these reusable coffee cups."
Laurence Webb, UK&I sustainability lead at Costa Coffee, added: "Our customers believe passionately in being able to make choices that help them do their bit to protect the environment and we are excited to partner with Scotmid, selling Costa Coffee reusable cups, designed to fit within our Costa Express machines.
In addition to the sale of the reusable travel cups, the digital screens on all Costa Express machines look to encourage customers to think more sustainably and opt for a reusable cup when it comes to purchasing their favourite coffee."