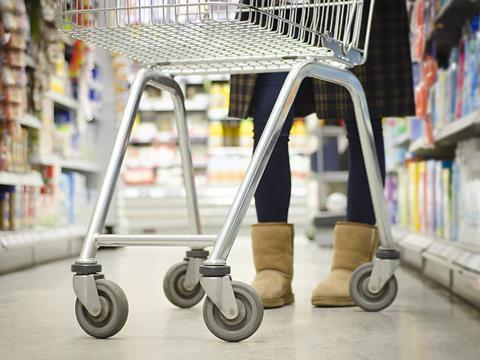 The convenience channel saw a significant year-on-year drop in sales over the Christmas period. Kantar data for the 12 weeks to 27 December 2021 saw a 10.5% year-on-year drop in sales for Symbols & Independents however the 2021 figure represented a 5% increase on the same period in 2019. The year-on-year drop for the channel was down on the total market, which saw a 3% drop compared to 2020.
Fraser McKevitt, head of retail and consumer insight at Kantar, said there wasn't as much stockpiling as expected. "Food and drink spend peaked two days before Christmas. The real driver of bumper sales on 23 December wasn't online though, as we saw the largest number of in-store visits since March 2020 this month. Shoppers clearly trusted that supermarket shelves would remain well stocked and they didn't feel the need to rush out much earlier to get their favourite festive treats."
Andrew Connolly of Conolly Spar in Wiltshire said his three stores were down year-on-year. Speaking to ConvenienceStore.co.uk, he said: "We traded down this Christmas compared to last, and there were supply issues especially with the chilled section which didn't help at all. But generally, it was a very quiet period, unusually quiet."
A strong start to the Christmas season had given Andrew some hope but key categories dipped over the festive period. "The lead up to Christmas wasn't actually too bad, but the Christmas period itself was not good," he said. "Both alcohol and cigarettes traded down significantly which we were really surprised about. It may be that people at home have got used to a level of drinking that Christmas has come and it's just an extension of where they've been in terms of covid, lockdown, working from home so perhaps Christmas just wasn't much of an event this year still."
Derby One Stop retailer Dee Sedani reported a drop in sales as well. "We were down 12% on our turnover from last year, so Christmas wasn't as good as we were expecting."
Essex retailer David Nice said that while sales were steady over the period, progress was hindered due to staff shortages. "We were quite steady, similar to last year, we definitely weren't busier. Christmas Eve and New Year's Eve were both very similar to last year. Because of staff shortages, we opened for less hours on New Year's Day and Boxing Day so that made it hard for us to massively increase on last year."
David saw drops in fresh categories over Christmas. "Fresh produce like meat and greengrocery actually fell below our expectations and I think it's because of the price increase on those products that people went elsewhere. But a category that did very well was Christmas goods itself, as well as home baking and food-to-go. So, this year we'll have to look at our range and our prices for fresh food, because you have to be competitive."
Not all retailers reported drops in sales. Shailesh Parekh, who runs six sites in the West Midlands, said: "Trade was pretty good actually, I haven't actually analysed all the figures yet but I suspect we were up from last year a little bit."
Dennis Williams of Broadway Convenience store in Edinburgh also reported sales growth. "Sales were good this Christmas, we were double digit growth compared to last year, about 14 or 15% up.
"Food to go has been a massive footfall driver for us, it's getting customers in all the time and adding a lot to our bow, you know."