The convenience sector is ever-changing, so it is essential that retailers modify their stores to keep up with modern trends, and even more important that they plan their store refits to ensure their investment pays off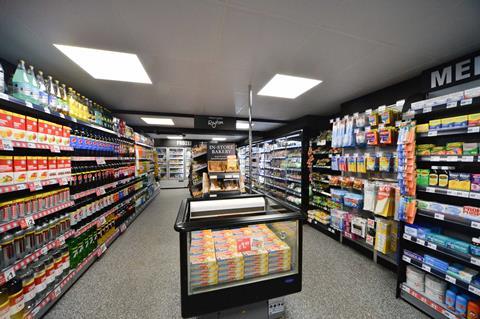 Whether it's expanding, streamlining, or a complete redesign, most c-store retailers have contemplated a store refit. But before you can peel back the cellophane on the spanking new store equipment, or cut the brightly-coloured ribbon at re-opening celebrations, there are plenty of necessary processes to go though first.
Before you can welcome contractors and development teams through the door, a substantial level of planning and consultation must take place.
"For us the process was much lengthier than usual, It took us six years to prepare for our refit," admits Justin Whittaker, owner of MJ's Premier, Royton, Greater Manchester, which had a full refit in September 2015.
"This refit was six years in the making, because we had to apply to the council to extend the size of the store and buy the land it was on in order to expand. The main driving force behind the refit was my opinion that a store of 700sq ft couldn't compete in the modern market, so after going through the process of buying the land from the council, we expanded to 2,000sq ft.
"Our ideas were well founded and we did all the groundwork way in advance because we had had so long to think about it. We were able to build a store that fits our requirements 100%. It will also mean that we won't have to carry out any extensive refits again for quite some time."
Baz Jethwa, owner of two Costcutter stores in Farnworth, Bolton, agrees that these things can't be rushed. He has just carried out a refit at his Plodders Lane store, after refitting his Campbell Street outlet in 2014. "It took us about three to four months to get the planning just right before we changed anything inside the store," he says, adding that it is important to get plenty of advice from the start.
"I don't think some retailers realise the support and help that is available to them," he says. "We went through a long consultation process as we thought it was important to get the advice and opinions of our customers, staff, contractors and symbol group first. Costcutter offered us amazing support, from design and merchandising ideas and more."
Justin also benefitted from symbol group guidance. "I don't think retailers could survive without being a part of a symbol group today; the support and guidance they provide is invaluable," he says. "I would recommend that retailers consult their symbol group thoroughly before they embark on carrying out a refit.
"I am part of the PDG [Premier Development Group] at Booker and being a part of the group was highly beneficial as I was able to implement ideas from top retail minds. Some key ideas were put forward, which I combined with my own vision of what I wanted and what I knew customers wanted. My advice to retailers approaching a refit is you can never have too many opinions; be open to take advice from different areas."
For Leicester retailer Meeta Raja, the refit process was a completely new experience but an essential one, too. Just 11 months ago, Meeta took over a tired newsagents in the heart of a local community on Oronsay Road, Leicester. With advice from the Best-one symbol group she set about completely revamping the store.
"The store was a dump when we took over, to be quite frank," explains Meeta. "We had amazing support from Best-one and our 
suppliers. They helped us to re-merchandise the whole store, came up with a planogram for the layout, and provided a fascia and all the signage, while the contractors worked tirelessly to get the store to how it looks today. We paid for everything else, including the labour to do the work. It was quite expensive."
Shopper missions were at the centre of Meeta's vision. "Our key focus when carrying out the refit was to make shoppers' missions a priority. We wanted to give our shoppers a great experience when they walked through the door and to give them the opportunity to address more missions and encourage them to navigate new areas of the store. We achieved this through opening it up by buying out the other half of the store that was originally being rented out as a hair salon, streamlining everything and making the most of the store's compact dimensions of 1,500sq ft.
"The refit has really paid off as the store was making £7,000 a week before and is now taking over £12,000 a week."
Missions were a main focus for Justin's refit, too. His store now features a designated food-to-go area providing hot and cold breakfast and lunchtime meal solutions; a kids' zone with a self-service slushy machine and bargains on confectionery; and a Heineken beer cave – a walk-in chilled room to give customers an engaging shopping experience.
Baz also redesigned his Plodder Lane store around customer missions. "The focus was customer missions and food to go, but ultimately we wanted to streamline the businesses and make the store easier to navigate. I think this is how refits have changed over the years – more and more retailers are having refits that are driven by rapid changes in the market and growing and shrinking trends. This is the nature of the business and will continue to be one of the main driving factors behind refits and remerchandising. Years ago people only did refits to expand or to replace tired parts of the store."
Baz wanted to make better use of his 1,400sq ft space without expanding its dimensions. He says: "We decided to open up the store some more by being smart about the layout. We opened up the windows to let more light through, we improved navigation and we also gave the store a new feel. We introduced the Costcutter premium black fascia and made the exterior really attractive and welcoming, while giving the inside a funky urban feel with all-new interior, fridges, freezers, shelves, counter and security. You name it, we changed it."
Baz's latest refit cost £250,000, with funding aided by HH Retail Finance. "Even though we spent a lot of money on the refit it was worth it, because it made sense to do everything at once exactly how we wanted it so we don't have to do another refit for at least three or four years. I think it is important that retailers don't sit still for too long, they have to keep moving with trends and monitoring the way the industry is going and carry out refits, no matter how big or small, every few years to keep ahead. The refit has paid off; the customers love it and say how much they like the store and that gives us a fantastic feeling to know our efforts have been worthwhile."
Justin has no regrets about investing heavily, either. "The refit build cost £150,000 and the shop equipment cost £100,000 so it was expensive, but it was a bigger refit than your usual one and it has made a big impact on sales. We needed to evolve, it was necessary.
"You've not got the convenience sector, discounter sector and food-to-go sector any longer as they are all merging into one, and we wanted a store that prides itself on targeting all these areas at the same time. I think retailers need to clearly think through their plan for their refits and think outside the box on how the change can make the biggest impact."
Close or keep trading?
One area that needs careful consideration is whether or not to close the store during a refit. While closing can be the most practical option for some, others prefer to keep their doors open.
Baz says: "The refit took two weeks to carry out and what worked in our favour was closing the store for those two weeks. We were able to have complete freedom to make all the changes quickly without disrupting shoppers. We had a big re-opening ceremony afterwards and it created a massive buzz in the local community and lots of new customers came in."
Justin closed his store for four weeks during his refit, but doesn't recommend doing this. "I would strongly advise retailers not to close their store during a refit if they can really help it," he says.
"We had to close for four weeks and it was then hard to get those customers back once they had been shopping around, or getting used to visiting competitors instead. It was tough, but we have now managed to rebuild our large customer base."
Meeta Raja opted to keep her Best-one store open throughout its two-week refit and found carrying out the work in tight spaces and in and around shoppers to be a difficult operation.
"It was very challenging to fit everything in around staying open. We decided to work on one half of the store then move onto the other half so that customers were still able to shop. We knew it was vital to stay open, because we didn't want to lose customers or inconvenience anyone from the local community. The locals are important to us and, being a new store, first impressions were vital. However, our contractors really faced difficulties such as carrying the new tobacco gantry and Coca-Cola fridges through our doors," she adds.
Although it has been hardly any time at all since Justin's Premier store underwent a refit, he is always looking at improvements. "There won't be any structural changes for quite some time, but the store is re-merchandised on a bi-weekly basis and I am sure we will re-merchandise extensively in the future, keeping up with consumer trends and looking at evolving all the time. What's next for us is to look into offering more food-to-go ranges, maybe a Subway-style offering or larger hot pastry offering, and maybe a self-service ice cream or milkshake machine in the kids' zone.
"My main advice is not to sit still. Look at suppliers, symbol groups and spend a good amount of time assessing everything and planning every detail before approaching a refit. Preparation and planning are imperative."
C-Stores must invest to stay relevant
The Association of Convenience Stores is urging stores to invest in their stores, after the group's investment tracker revealed that investment levels at convenience stores declined 1.4% year-on-year, despite record financing for the last yearly quarter.
C-stores invested £600m in their businesses over the 12 months, including a record £181m in the last three months of the year, up from £177m in the same quarter in 2015. Symbol groups were the only segment of the sector to show an increase in investment compared to the same quarter in 2015.
James Lowman, ACS chief executive, says: "In this crucial quarter for investment, with retailers gearing up for summer trading, we have seen a decline in the amount invested per store. We are seeing a split developing, as symbol group retailers make bigger investments while investment by non-affiliated stores is down year-on-year. Retailers who don't invest now risk becoming uncompetitive."
The benefits
Make your business fit for the future
After 20 years of running a 600sq ft newsagent with a limited food range, Hull retailers Simon and Coralyn Routledge took the plunge and expanded their store to 1,000sq ft, joining the Costcutter symbol.
In February 2016, Simon opened the new Costcutter store in Kirk Ella, with the extra space allowing him to focus on offering an enhanced chilled and fresh food offering.
"We now have a large range of Independent products and have seen high repeat purchase. We take the time to plan product groupings and this has really helped drive the message that we now offer solutions for every meal occasion," says Simon.
Since relaunching, average sales have risen 40% a week, increasing weekly turnover by more than £5,000.
Simon says: "My advice to anyone thinking of investing and expanding is just to do it. In the long run it will be worth it, and you'll fall behind the competition if you don't. Listen to what your customers want and look at the local area. Use this knowledge to build a store that will see you future proof your business."
Investment levels take a dive
The Association of Convenience Stores is urging retailers to invest in their stores, after it revealed that investment levels in convenience stores have declined 1.4% over the past year, despite record financing for the last quarter.
The group's Investment Tracker showed c-stores have invested £600m in their businesses over the past 12 months, including a record £181m in the last three months, up from £177m in the same quarter in 2015, but overall spend per store has fallen.
The investment tracker also found that 69% of independent retailers are funding investment from their own reserves.
ACS chief executive James Lowman says: "Retailers who don't invest now risk becoming uncompetitive as they will miss out, notably on the opportunities to sell more fresh and chilled products with increased refrigeration."