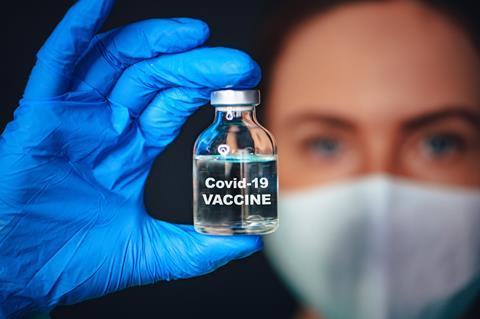 The government has offered to consider retail workers as a priority for the Covid-19 vaccine which is being rolled out across the country however the retail industry continues to demand guarantees.
Speaking at the House of Commons earlier this week, health secretary Matt Hancock suggested that retail workers would be considered when deciding on the vaccine roll-out priority.
He said: "I want to thank shop workers in essential shops who have to be there for all of us, even in these difficult times when the virus is widely spread.
"We will be looking very carefully at those professions that will need to be prioritised in phase two of the prioritisation programme. We will look at teachers, police and others, but we will also look at shopworkers and will make those decisions based on the data."
Although confirming nothing, the statement was welcomed by NFRN national president Stuart Reddish. "Thousands of independent retailers and their staff have been at the frontline throughout the pandemic. While safety measures have been put in place to protect staff and their customers, our members still put themselves at risk day in and day out to keep the population supplied with food and other essential goods.
"I welcome the comments from Mr Hancock and hope that the government acts upon his words."
Workers union USDAW also welcomed the sentiment but in a letter to Hancock stressed the importance of retail workers being prioritised. The letter said: "Retail workers, including grocery delivery drivers, have played a key role in ensuring the country is able to get through the current crisis. These critical workers have played a vital role in our communities ensuring that food remains on the shelves and can be accessed by all. From our conversations with employers, we are aware that the sector is currently suffering from incredibly high sickness absence rates as a result of Covid-19.
"USDAW believes that the second phase of the vaccine roll-out must reflect the risks linked to occupation. We believe that given the risks involved in their public-facing roles, it must be agreed that retail workers should be one of the groups prioritised for the vaccine. This will ensure that critical workers across retail will be able to continue to support their communities throughout the rest of the pandemic."
Retail worker vaccine petition
This follows at petition urging the government to priortise retail workers. The petition, created by Sarah Green, suggests that key retail workers should be higher up on the list to receive the vaccine. It states: "Supermarket workers etc.. kept the nation fed when everything else was closed. They were called 'hero's' (sic) and should be high on the list of first people to receive the vaccine."
It goes onto say: "Key retail workers, come into contact with hundreds of members of the public on a daily basis, putting their and their families lives at risk of contracting Covid-19. We don't have the vast PPE that the NHS are provided with and rely on people to keep their distance and wear masks, which doesn't always happen. This is a petition to demand we get faster protection for our front line key retail staff, who keep the country fed!"
The petition already has more than 15,000 signatures. If the petition receives 10,000 signatures, government will respond to it and if it receives 100,000 signatures, it will be considered for debate in Parliament.