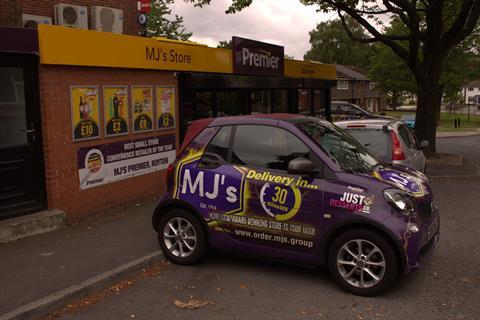 Premier MJ's in Royton has hit the £1m mark through its delivery app.
According to owner Justin Whittaker, the average basket spend is over £25 and because of the high fresh mix, margins are over 30%. The store has four vehicles all brightly coloured and branded to raise more awareness of the service. At the busiest time, there can be up to eight members of the team working on deliveries and this continues to grow.
Having reached the milestone in a little over 12 months, its 30-minute delivery service has transformed the business and is now its most profitable part. The store averages between 100 and 120 deliveries a day from Monday to Thursday, increasing to more than 150 drops on Friday, Saturday and Sundays, with a spike in demand for deliveries after 5pm.
The service has a minimum drop of £10 and a delivery charge of up to £3.49 while the store's catchment is three miles.
Justin explained what makes the service a success for him. "We are delighted with the delivery service – it really has been a game changer for us. I can't actually believe that sales have hit £1million already. Of course, we were very lucky to launch the service when we did, however we have worked really hard to exceed our customers' expectations.
"Making sure we arrive within 30 minutes is crucial. We always offer great value as a Premier retailer and this has been a real advantage for us. We also have to ensure the quality of the items we are delivering – they have to be as perfect as bought in the shop. Customers demand this as delivering a substandard or damaged product means you will probably lose that customer forever. This is even more important when we know the majority of our 10 most popular products are fresh, such as milk, bread bananas and mushrooms."
He added that he expects the trend to continue. "Covid-19 has definitely accelerated the success of the service, but it's here to stay and I'd encourage all retailers to start a delivery. We are still growing strong and as far as I can see, the sky is the limit."
Sales director of retail at Booker Martyn Parkinson said: "Justin is a shining example of the true entrepreneurial spirit of Premier retailers across the country. The independent sector has never been more vibrant and this is because of retailers like Justin who continue to innovate their business and push it forward through technology. It has been an absolute pleasure to work with Justin on this project and support his growth. To have a £1million delivery service from a store that is only 1,400 square foot is phenomenal and with margins at over 30% it makes perfect business sense. Any retailer who would like to know more can contact their local RDM or Booker branch."