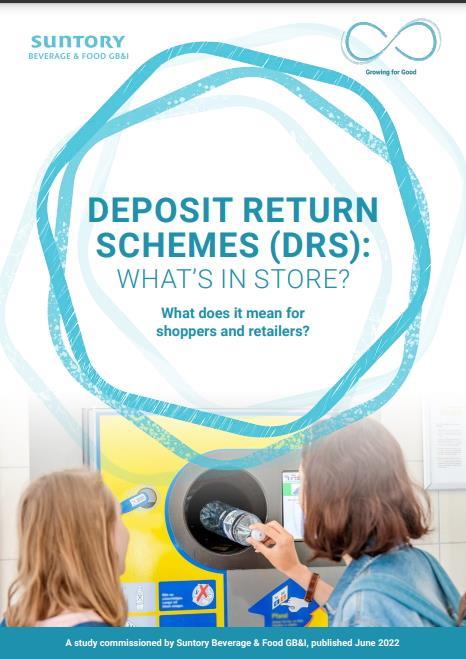 Suntory Beverage & Food GB&I (SBF GB&I) has commissioned a new white paper study on deposit return schemes called Deposit Return Schemes (DRS): What's in Store? The major research into consumer behaviours and attitudes found that it takes just seven weeks for most shoppers to rethink their relationship with plastic bottles (88%) and to appreciate their value after living with the scheme.
As part of the study, SBF GB&I, which manufactures Lucozade and Ribena, undertook four distinct behavioural studies involving almost 8,000 people across the UK. The research included placing over 5,500 people in a virtual reality shopping environment to see how they would react when a theoretical deposit return scheme (DRS) was introduced. Further studies with another group were focused on understanding how consumers lived with deposit return schemes over an 8-week period.
The firm discovered that shoppers experience a three-stage mental shift when required to pay a deposit, which the company has categorised as Surprise, Review and Reset.
Surprise: Shoppers experience surprise at being asked to pay more for soft drinks in a retail environment and return items for a fee, which is currently set at 20p per item in Scotland (with other devolved nations expected to introduce a similar level of fee).
Review: In the second stage, consumers review their relationship with materials like plastic bottles and learn how to adjust to the new scheme rules after having to re-evaluate the value of their drinks packaging.
Reset: In the final phase, shoppers reset and change their behaviour towards materials like plastic bottles resulting in new routines and different choices.
Keith Allen, director for commercial sustainability at SBF GB&I said, "As one of the market leading branded soft drinks companies we are passionately committed to deposit return schemes to ensure that the right conditions exist for a truly circular economy so that our bottles and cans are used again and again. These systems work brilliantly abroad. We need them to be as simple and similar as possible across the UK to avoid complexity and confusion for retailers and shoppers, so they have every chance of succeeding."
Matthew Deane, head of customer marketing at SBF GB&I, said: "Deposit return schemes will bring about one of the biggest changes in shopper behaviour in a generation. Many people purchase on autopilot and will be surprised that they will have to pay more up front and then retain the items in good condition to get their deposit back. Lots of retailers selling any bottle or can in the schemes will have to offer a collection service. This will positively transform the shopper relationship with plastic and cans. However, it's important retailers understand this shift so they are in the best place to adapt to these forthcoming changes. We're on hand to help them on this journey."
Liz Nieboer, head of sustainability and external affairs at SBF GB&I said: "As part of our 'Growing for Good' vision, we are designing our products for circularity by making sure that 100% of our packaging is recyclable by 2025 and using more sustainable materials like rPET. Deposit return schemes will ensure that these materials are reused more effectively and for their intended purpose."
DRS is being introduced throughout the UK at various points over the next couple of years. Scotland is due to introduce a DRS in August 2023, and details of schemes being rolled out in England, Wales and Northern Ireland are expected to be published later this year. SBF GB&I is a founding member of Circularity Scotland, the body set up to administer deposit returns in Scotland.