McColl's Retail Group has announced an "encouraging" start to 2020, with like-for-like sales up 0.5% in the 11 weeks ending 9 February.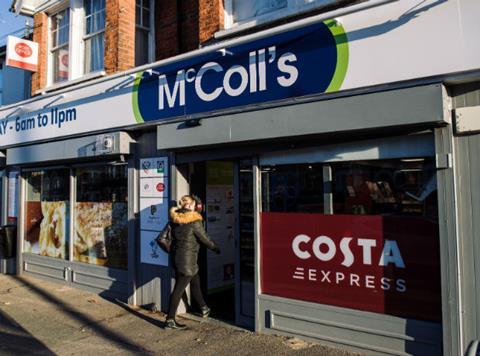 Total sales over the 11 weeks, which include the Christmas period, increased by 4.2% due to the annualisation of the store optimisation programme, the group said in its latest trading update.
Annual like-for-like sales for the year ending 12 November 2019 were level (0.0%), marking an improvement on the -1.4% decline in the previous year. Total annual sales dropped by 1.9%, as previously announced in a December update.
Adjusted EBITDA for 2020 is expected to be broadly in line with 2019 (£32.1m), McColl's said.
In 2019 McColl's trialled 10 Morrisons Daily stores, which have seen "strong sales", and it is expanding the fascia into an additional 20 stores "to further evaluate".
During the year it opened 10 new convenience stores, but closed or sold 120 stores.
Chief executive Jonathan Miller said: "We have stabilised the business and refocused on retail execution in 2019, in line with our key priorities for the year. Against challenging trading conditions we have made good operational progress, whilst reducing debt and making appropriate levels of investment.
"Looking ahead to FY20, we are embarking on a strategic change programme, refining our model and better tailoring our offer to the customers and communities we serve, using the learnings to build the foundations for future growth.
"The fundamentals of the convenience sector remain strong and, with our improving customer proposition, I am confident in delivering sustainable returns for shareholders over the long term."