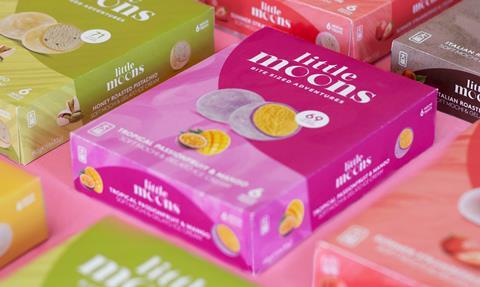 Ice cream brand Little Moons has seen some big demand in convenience with customers flocking to get their hands on the treat.
According to The Grocer, sales of Little Moons grew 700% at Tesco following a video the brand posted on social media channel TikTok that went viral. The brand has 121,000 followers on Tiktok and 1.5 million likes, with its video views reaching hundreds of thousands regularly.
This popularity has led to retailers reporting shortages of the product. However, when availability in the multiples was found wanting, in stepped independent retailers like Amrit Pahal, owner of Nisa Local in High Heath, Walsall, to get the job done.
Tesco out of little moons 😂, Local stores to the rescue!!! #IGotWhatYouNeed pic.twitter.com/uuxrUatLmw

— Amrit Singh (@nisawalsall) February 4, 2021
Proving it wasn't a one-off delivery, Amrit posted again a couple of days later when he had replenished his stock.
February 6, 2021
Sunder Sandher of One Stop in Leamington Spa said he's been selling out of Little Moons everyday since he started stocking them with customers travelling over 40 miles to try and get hold of Little Moons.
Little Moons selling out every day.
Power of Tik Tok. pic.twitter.com/1e5Htle0Ud

— Sunder@ One Stop (@sundersandher) February 8, 2021
All the way from Cheltenham so happy they have Little Moons. pic.twitter.com/GldPQF5od6

— Sunder@ One Stop (@sundersandher) February 5, 2021
One Stop Mount Nod has also seen the Little Moons craze hit his store. Aman Uppal was so excited he took to TikTok to celebrate.
I have to agree with @nisawalsall and @sundersandher that the @lovelittlemoons hype is real!!! The reaction in store and on our social media has been amazing!!! pic.twitter.com/FKSsdMzE6O

— One Stop Mount Nod (@OneStopMountNod) February 8, 2021
The brand took to social media to assure everyone that more stock was on the way.
New stock is on its way. Thank you so much for bearing with us and for all the love and support! It truly is appreciated. Love, The Little Moons Team 💖#LittleMoonsMochi pic.twitter.com/tnNGu3QSLi

— Little Moons Mochi (@lovelittlemoons) February 8, 2021