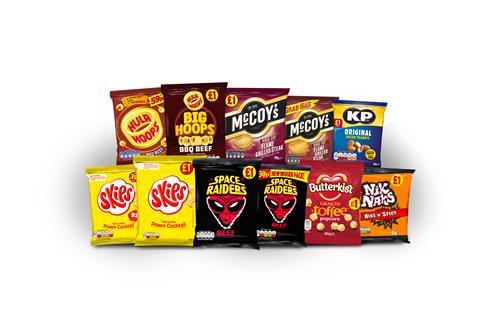 Availability of KP Snacks' products could be impacted after a cyber attack on the company's IT systems, claimed the firm, which makes Hula Hoops, Skips and KP Nuts.
In a letter sent to retailers, first reported by Better Retailing, KP Snacks warned of the supply chain disruptions.
In a statement, a KP Snacks spokesperson said: "On Friday 28 January we became aware that we were unfortunately victims of a ransomware incident. As soon as we became aware of the incident, we enacted our cybersecurity response plan and engaged a leading forensic information technology firm and legal counsel to assist us in our investigation.
"Our internal IT teams continue to work with third-party experts to assess the situation. We have been continuing to keep our colleagues, customers, and suppliers informed of any developments and apologise for any disruption this may have caused. While this is causing some disruption to our manufacturing and shipping processes, we are already working on plans to keep our products stocked and on shelves."
In response to the attack, Carl Wearn, the head of risk and resilience at cyber security firm Mimecast said:
"This is another example of the real-life consequences that ransomware can have, and they are becoming more common than ever before. Mimecast's recent State of Ransomware report found that organisations in the UK experienced an average of 3,000 ransomware attacks in the last two years, at a rate of four attacks per day.
"Mimecast research shows that victims saw disruption to their operations (42%), significant downtime (36%), loss in revenue (28%), and a loss of customers (21%). With this in mind, it is no surprise that one-third of these victims paid the ransom in full, with the average UK payment totalling £626k.
Wearn warned businesses not to pay the ransom. "It is not advisable to pay the ransom, as the criminals may not release the data or access to the systems. To lessen the risk of falling victim to ransomware, businesses must be prepared. The problem is very complex, and the risk is rising, meaning all organisations need the strongest possible protections in place and a layered approach to cybersecurity. From a people perspective, it is important to educate employees regularly to ensure they follow cyber-hygiene best practices."
In December, James Hall & Co was hit by a cyber attack, leading to stores being forced to temporarily close. More than 300 stores were affected by the incident.