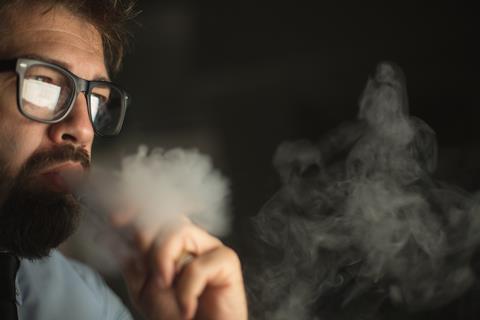 Vape brand Geek Bar has written to Trading Standards services at local authorities in major UK cities in an effort to raise awareness of the growing issue of non-compliant and counterfeit disposable vape products.
It comes in the wake of the growing number of raids on retailers across the country who are selling non-compliant vape products.
In terms of non-compliant products, in the UK, disposable vapes should contain no more than 20mg/ml of nicotine, nor have above 2ml liquid capacity. However, Geek Bar pros, as well as other brands, manufactured for other non-UK markets where regulations differ and allow higher nicotine concentrations have been amongst the non-compliant products making their way into the UK market.
Its letter asks Trading Standards to encourage retailers to come forward if they are approached by distributors trying to offload non-compliant or counterfeit vape products.
Chief executive of Geek Bar, Allen Young, said: "It's easy to blame the manufacturer but the truth of the matter is that these products are finding their way into the UK through customs and being sold in retail outlets across the country. It's a huge issue for our own reputation and the vape sector as a whole. Enough is enough, and there needs to be more collaboration and enforcement involving all parties including Trading Standards, the vaping industry, trade associations representing retailers and the Medicines and Healthcare products Regulatory Agency.
"We are also asking the community to come forward and report retailers who are selling products that they shouldn't be by emailing us at legal@geekbar.com."
The company has been working closely with the authorities in China to identify factories producing fake products. This has resulted in the closure of 12 counterfeit production facilities and the seizure of more than 100,000 fake products destined for the UK. Those responsible for setting up these illegal factories are now facing criminal charges and if found guilty, a minimum three-year prison sentence.
Geek Bar also helped establish a primary authority partnership with Oldham Council to focus on the growing issue surrounding illicit disposable products, and recently produced a retail leaflet making retailers aware of counterfeit and non-compliant products, and has revamped its product packaging to emphasise the security code which will allow both retailers and consumers to check the authenticity of the product. The security code can be verified at http://www.geekbar.com/security-code.html.