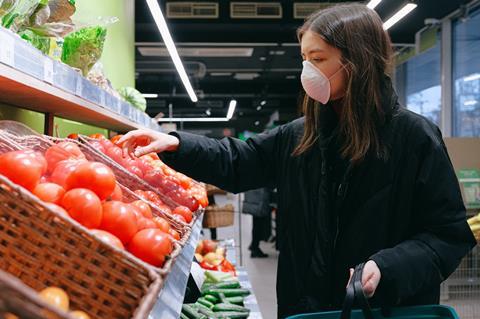 Face coverings are to become mandatory for customers in stores in England from Tuesday 30 November.
The Prime Minister confirmed the new temporary and precautionary measure following the emergence of the Omicron variant in the UK amid concerns from the government that this variant may be more transmissible than the Delta variant and current vaccines may be less effective against it.
From 4am Tuesday 30 November face coverings are compulsory in shops and other settings such as banks, post offices and hairdressers unless individuals are exempt from doing so. The measures are to be reviewed in three weeks time.
This brings face covering guidance for customers in England in line with the rest of the United Kingdom however concerns have been raised about the amount of time retailers in England had to prepare for the amended guidelines.
General secretary of workers' union USDAW, Paddy Lillis, said the government shouldn't have relaxed the guidance on face coverings in England earlier this year. "There is no reason why, when lifting other Covid-19 restrictions in England, the government could not have kept the requirement to wear a face covering in busy public places, like shops and public transport. This flip-flopping on basic and sensible covid measures and the different rules across the UK create confusion, reduce compliance and can lead to conflict."
He said that staff shouldn't be expected to enforce the wearing of face coverings. "Retail staff working with the public every day are deeply worried about catching Covid-19 and the arrival of the Omicron variant is a further concern. Wearing a face covering protects others, it should not be a personal preference, but a personal responsibilty. The government must be clear and consistent on it being mandatory and that shopworkers are not expected to enforce the law on face coverings."
An USDAW survey from September 2020 found that 42% of retailers surveyed reported that face coverings was a trigger for abuse from customers.
Lills added: "Usdaw is urging the shopping public to wear face coverings, along with necessary hand sanitisation and maintaining social distancing to help make shops safer and limit the spread of Covid-19. We ask the public to follow the rules and respect shopworkers, abuse is not a part of their job. We continue to call on retail employers to maintain appropriate safety measures, ensuring they are followed consistently in every store.
"Many shopworkers are at a greater risk of catching the virus and taking it home to their families. Yet they have worked throughout the pandemic to keep the country supplied with essentials. These key workers must be valued, respected and protected."
The Association of Convenience Stores reminded retailers that downloadable posters regarding face coverings are available here.
We're still awaiting confirmation of the detail, but you can get ready for the change in the rules on face coverings by downloading our resources to use in store here: https://t.co/DqdWmtFjO8 https://t.co/j3fWPPdvyd pic.twitter.com/Aexo8Dn2xa

— ACS (@ACS_LocalShops) November 27, 2021
ACS chief executive James Lowman added: "We are helping retailers to prepare for the change in face-covering rules, but they are extremely concerned about abuse against their staff from customers who don't want to wear a face covering in a shop. We will continue to urge stores to communicate the rules, but not to challenge those who refuse to abide by the rules."