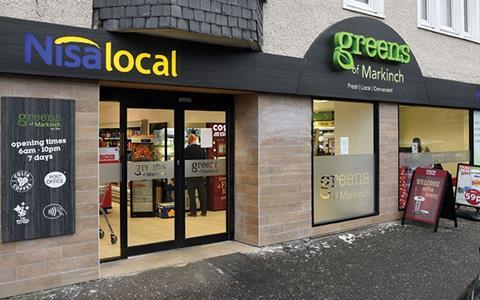 Eros Retail, which will relaunch as Greens Retail at the end of May, is preparing for significant expansion having taken on a new head of retail and implemented a company rebrand. The Fife-based company is also introducing new strategic values as People, Place, Product and Planet.
Greens Retail has a £100m annualised sales objective sought to be achieved within the next 24 months. The group has 10 new store openings planned over the next two quarters, leading to forecast annualised retail sales of c. £40m and an expected headcount approaching 500 colleagues. New store locations include Kirriemuir, Shettleston and Fraserburgh with the opening pipeline commencing from 31st May. A targeted acquisition strategy continues to help identify further store locations throughout Scotland.
To facilitate planned growth, Nisa retail development manager David Bateman is leaving his current role to start as Green's new head of retail in June.
Bateman, who has 27 years of experience in wholesale and convenience retail, said: "Having worked closely with the management team at Greens Retail for many years, I am delighted to be joining as head of retail during such a pivotal and exciting phase of growth. In particular, I look forward to overseeing the retail and trading teams as well as working with wider colleagues and partners within the sector."
The new sites will join the firm's existing convenience stores in Kirkcaldy, Markinch, Leven, Crossford, Ellon, Peterhead, Inverurie and Kinross, which operate under the Greens and Nisa brands.
The firm disposed of four stores and acquired three new sites in the last financial year (Apr 21 – Mar 22) whilst almost doubling its average store turnover.
Harris Aslam, group managing director said: "Coming out of an unprecedented two years of the pandemic, our business and colleagues have shown incredible resilience and consequently we have had some fantastic achievements. From a strategic view, we consolidated our retail estate during this time ensuring our stores are fit for future growth, whilst also delivering some record-breaking numbers. "We look forward to welcoming David to lead our retail proposition and are excited to work closely in ensuring we are growing in a sustainable manner which ensures delivery of not only our financial plans though also our newly introduced core values.
"Over the last six years we have worked with David, we have first hand seen his excellent leadership and personnel skills as well as his deep convenience retail experience and our mutual passion for the sector. I am confident David will put this to excellent use at Greens."