Costcutter Supermarkets Group (CSG) has returned to profit on the back of a strong year of sales, according to results filed at Companies House this week.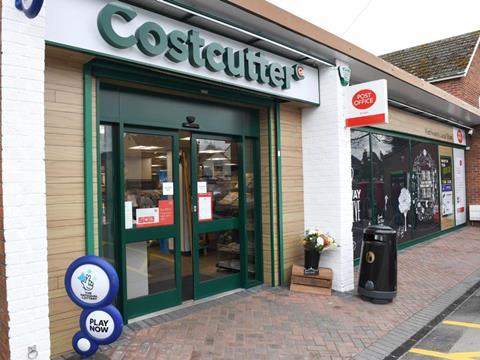 Sales increased by 10% to £426m for the period Jan 1 to Dec 31 2019, with EBITDA increasing by over £9m to +£5.1m. Ceo Darcy Willson-Rymer said: "2019 has been an outstanding year for CSG, delivering one of our strongest set of results to date."
Willson-Rymer attributed the results to the performance of the group's Shopper First initiative, which creates a demographic map for each trading location, enabling retailers to refine their store offer more closely to their specific customer base.
"We have rolled out Shopper First to significantly more stores during the year, and retailers who engaged with the programme saw sales increases of 20% as a minimum," he told C-Store. "It has helped create a strong and relevant offer for convenience shoppers, and has been instrumental in growing our fresh sales."
Fresh food had been the fastest-growing category in the group during the year, he explained, as Costcutter continued to improve its 'food for later' offer. "The Co-op own-brand helps us to get the offer that we need in stores. Our supply partners Co-op and Nisa are doing a really good job for us, and the relationship is very strong."
Store numbers remained flat at 1,550, but Willson-Rymer pointed out that some churn in the membership had seen "a host of exceptional retailers" joining the group. "Those that joined us are spending 50% more than the members exiting," he revealed.
The year also saw the highest ever level of rebates paid out to retailers through the group's loyalty scheme. "It's more for more," explained Willson-Rymer. "We have a relentless focus on independent retailers and driving their sales, and if we focus on their success, we know they will in turn buy more from us."
The surge in demand by shoppers through the COVID-19 crisis drove a +22% increase in non-tobacco sales across the first four months of 2020, Willson-Rymer added.
"In just two months, the coronavirus crisis has transformed the value of the convenience sector for shoppers and local communities. Our retailers' stores provided an essential role in providing lifeline support for their communities and keeping the nation fed. As a result, we expect sales to remain higher than usual for the time-being. However, as the lockdown eases, demand may begin to slowly return to normal levels and that is when we will accelerate elements of our 2020 plans to help our independent retailers convert these new lifeline shoppers into lifelong shoppers.
"We will do this through both the Shopper First programme and its proven ability to help participating stores focus on the right range and offer with an emphasis on fresh foods, and by helping retailers become even closer to local communities through an increased focus on digital experience and platforms such as Uber Eats."