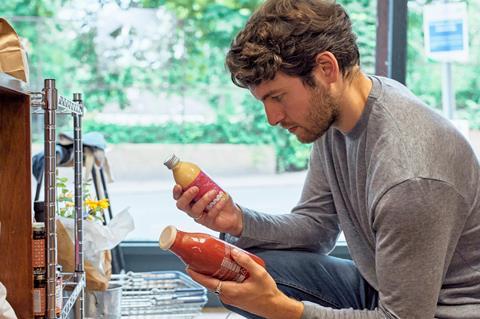 New research has found that trust in British food has dropped over the past year.
The Trust in Food Index conducted by YouGov and commissioned by Red Tractor revealed an 8% dip in trust in UK food.
The drop in trust come as shoppers are forced to change their buying habits because of the cost-of-living crisis. Almost half (46%) of respondents said they are changing what they buy to feed their families, with 30% of consumers buying less meat, this increases to 35% for those from lower income households.
Almost a quarter of shoppers (24%) say they are trading down, buying what they perceive to be food produced to lower food safety and animal welfare standards, which increases to 29% for people on lower incomes. The research also shows that 13% are buying less fruit and vegetables, which again rises to 19% for people with less disposable income.
In 2021's report, 78% of people said they trusted the safety and quality of food purchased from supermarkets. This year, 58% said they trust supermarkets. The drop in trust has been attributed to the switch and trade down to value ranges, with the standards for these ranges are assumed to be weaker
Chair of Red Tractor Christine Tacon said: "With the impact of the war in Ukraine and the cost-of-living crisis taking hold, it's no surprise that confidence in so many aspects of daily life has fallen. While British food continues to be highly trusted, our latest Trust in Food Index shows that as people are forced to trade down into cheaper products, they lose confidence in the way the food is produced.
"That's understandable – but it's also unnecessary. Whilst some shoppers now struggle to afford the prime cuts and choice ingredients, if they buy assured British food, the strict regulations on food safety, animal welfare and other aspects of food production, apply equally to value ranges as they do to premium products. We must tackle this before the drop in trust becomes toxic, by making it clear to people doing their shopping.
"As an industry we must work together to reassure people that whatever their price range, they can be confident in the standards and safety of food produced in the UK - people should never have to choose between price and food safety."
Sustainability and welfare
On the sustainability side, the research found that consumers continue to care about high welfare standards and sustainable production, with three quarters (75%) of consumers saying they value good animal welfare standards. Two-thirds of people value reducing plastic waste (64%) and low use of chemical fertilisers (60%), in the production of their food, while 49% of shoppers said that labelling which indicates that a product is sustainably farmed would positively influence their buying decisions.
The report also found that many consumers do not understand a lot of the terminology relating to farming methods or sustainability. While two-thirds of people said they could explain what organic means, only half (49%) of respondents said they felt confident explaining terms such as 'room to roam'.
Brexit
The Index found that people believe Brexit is having an impact on food, with 26% of respondents saying they felt the quality of food in the UK has been falling over the last two years.
On top of this, 43% of consumers believe that new trade deals will reduce standards of food in the UK further. The U.S. and India, both countries the UK Government is seeking trade deals with, have very low levels of trust – 27% and 18% of consumers trust food that originates in those countries respectively.5
Ireland and New Zealand were found to be the most trusted countries for imported food among survey respondents, followed by many European and Nordic countries, such as Italy, Sweden, Denmark, Netherlands, and Germany. The Index found that 58% of consumers look at the country of origin before buying a product.