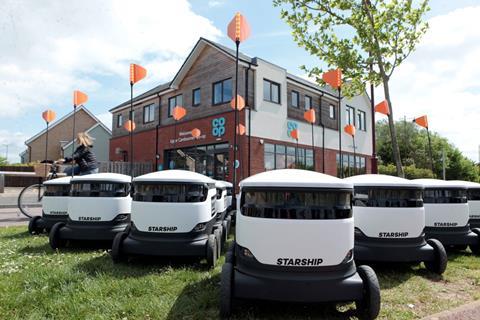 The Co-op has expanded its convenience-led delivery service with the goal of growing its online business by 50% to £300m by the end of the year.
In its latest Convenience Report, 'Rapid delivery – meals in minutes from store to door', Co-op has outlined the next steps in its roll-out of online 'quick convenience' by becoming the first UK supermarket to launch 'walking deliveries' for households and workplaces up to a 15-minute walk from its stores.
Walking deliveries are expected to operate from 200 stores this year following successful trials in Cornwall. The move is expected to enable Co-op to bring home delivery to more communities. The roll-out is expected to include smaller towns and rural villages often considered 'off-line' by rapid home delivery providers who have a focus on dense urban hubs.
The Co-op also plans to use robots to help achieve its target, with the retailer rolling out a partnership with Starship Technologies in Cambridge.
The partnership will see 12,000 residents in 5,000 homes that are within delivery distance from the Co-op store at Mosquito Road in Upper Cambourne benefit from quick deliveries of products.
The project, beginning this week in Cambridge, is part of the council's wide-ranging environmental agenda as it will help to reduce short car journeys and improve air quality, with an average delivery for a Starship robot consuming as little energy as boiling a kettle.
Chris Conway, Co-op's eCommerce director, said: "Making shopping quick, easy and convenient for our Members and customers is at the very heart of our approach, our aim is to be the most convenient home delivery service and we continue to innovate to meet the needs of consumers. Co-op stores across the country are well placed to serve shoppers locally and a key part of our strategy is to develop our ecommerce offer, using the competitive advantage of our store footprint to provide fast home deliveries, click and collect and added services."