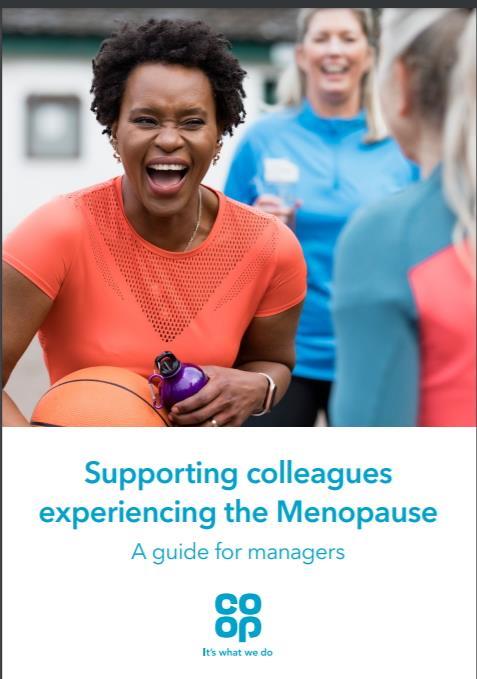 The Co-op has released a menopause support guide to its 4,500 managers, in addition to announcing a series of new initiatives, after the group's research found that over half (52%) of the UK's managers didn't feel confident in supporting a colleague who is or has experienced perimenopause or menopause.
The group is making the guide publicly available to other employers for free, in a bid to break the taboo of menopause in the workplace. Click here to view a copy of the guide.
The new guide, which has been created in partnership with Co-op's unions Usdaw and Unite and its colleague networks, will help managers understand why supporting colleagues experiencing menopause is the right thing to do. It will help them to understand how the menopause can impact colleagues and the role they can play in being supportive.
Highlighting the impact menopause has on women in the workplace, a new study by Co-op with women across workplaces in the UK shows that almost two fifths (38%) of women with or who have had the menopause experienced increased anxiety at work and over a quarter (28%) say they felt depressed.
Whilst almost half (47%) of women employees say dedicated support for the menopause in the workplace should be made available for colleagues by their employer, the Co-op study showed that the majority (95%) of managers working in businesses in the UK say they have never received official training on how to support perimenopausal colleagues and or those going through the menopause.
The Co-op claimed that the lack of training on this from employers across the UK is having a negative impact on women in the workplace with three fifths (59%) of women currently going through the menopause whilst at work saying their work is impacted and almost a further fifth (19%) of those experiencing or who have experienced it say they have lost confidence in their ability when it comes to their career.
As one of the first retailers to launch a menopause policy back in 2019 to its 60,000 colleagues, the Co-op is now taking further action to ensure women are fully supported.
In addition to the guide, Co-op has signed up as a Founding Partner to GenM — an organisation that helps brands recognise and respond to the needs of the menopause including improving signposting to products and services, encouraging responsible workplace policies along with inspiring marketing campaigns.
Co-op has also signed a Menopause in the Workplace pledge, launched by health charity Wellbeing of Women, to take further positive action to make sure colleagues are supported when it comes to the menopause.
In addition, Co-op has also been holding monthly colleague coffee mornings for the last year. Run by Co-op's women's network, Aspire, the sessions are a safe space for colleagues to share their experiences and hear from menopause experts, including Dr Zoe Hodson of Newson Health and Carolyn Harris MP.
Helen Webb, chief people & services officer at Co-op, said: "It's time to stop viewing the physical and mental impacts felt by those experiencing the perimenopause and menopause as just a women's issue and rather as a workplace issue that we all have a role in supporting.
"We need to work together across business, government and society to end the stigma, so that no one else faces this alone. That's why we're proud to release our dedicated menopause support guide for managers as well as becoming a Founding Partner with GenM and signing the Women in the Workplace pledge to go even further in making positive changes in the workplace."
Janet Lindsay, CEO of Wellbeing of Women, said: "We are so pleased that leading retailer, Co-op, has signed our Menopause Workplace Pledge and are supporting their colleagues with a range of measures.
"Sadly, women often struggle most with menopause symptoms in the workplace. This is why it's so important for employers to take positive action and make sure everyone affected by the menopause is provided with support they need and deserve to flourish at every life stage."
Sam Simister, co-founder of GenM, said: "We're delighted to have Co-op as a Founding Partner and it's so encouraging to see them hit the ground running with this fantastic research and great new initiatives. The menopause affects all parts of life and the workplace is one area that has been overlooked for too long. In fact, our groundbreaking Invisibility Report shows that 88% of women would like more support from their employers so it's truly exciting to see Co-op step up to the plate. And with the GenM collective of 55 responsible and forward-thinking partner brands, including the Co-op, all playing their part, we can really make a difference in this arena."