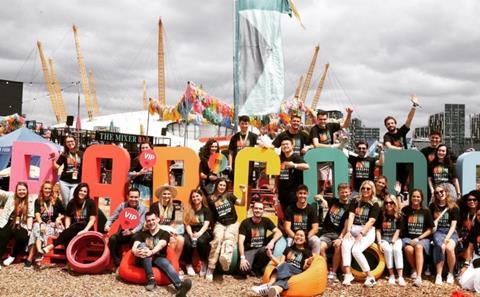 GroceryAid has raised a record-breaking amount of over £900,000 for the industry charity through the Barcode Festival.
Taking place on 7 July at Magazine in London and attended by more than 4,500 FMCG colleagues, Barcode is the industry's only music, food and drink festival, allowing over 200 FMCG companies to reward and recognise colleagues, network with customers, plus raise awareness and money for GroceryAid.
Visitors were able to enjoy complimentary food, drink and giveaways from over 80 sponsors. Supporters created incredible activations throughout the showground with a range of drinks bars and food stands. The entertainment included live performances from Steps, Tinie Tempah, Bastille, BBC Radio One DJs Rickie and Melvin and rugby legend James Haskell with his Ibiza DJ set.
Steve Barnes, CEO of GroceryAid said: "Barcode Festival has quickly become a key event in the trade with a record number of colleagues and sponsors attending this year. We are grateful that the industry has embraced the event and bought their enthusiasm and creativity to make it, once again, a memorable event.
"We have provided 61% more instances of support versus last year and we are busier than we ever have been. We are proud that we are helping so many colleagues when they are facing crises. Ultimately that is the purpose of Barcode, to ensure we as a trade can raise the money to carry on our life-changing work for colleagues in need."
This year's event was supported by FMCG sponsors including ABP Food Group, Accolade Wines, All About Food, Arden Fine Foods, Arla Foods UK, Asda, Aston Manor Cider, Avidity, Bacardi Martini, Bear Snacks, Berry Gardens, Bio&Me, Blo, Box of Booze, BrewDog plc, Britvic, Budweiser Brewing Group, Campari Group, Carlsberg Marston's Brewing Company, CCEP, CHEP, Circle Agency (All About Food), Clearly Drinks, Coca-Cola Europacific Partners, Coty, Danone, Diageo, Disney / Ocado, Elida, Eurilait, Euro Food Brands, Feel Good, Ferrero UK, Fused by Fiona Uyema, Galderma, Glanbia, Go2Grocery, Good Earth, Grenade (Mondelez), GSK, Heineken UK, HEURA, House of Canvino, Iceland Foods Ltd, Idahoan, InterContinental Brands, InTuneDrinks (Cosmo), Joe and Seph's, John Lewis & Partners, JTI UK, Kepak Convenience Foods, Kopparberg, KP Snacks, Lactalis McLelland, Love Corn, Lucky Saint, Marks & Spencer, Mars, Mars Wrigley Confectionery, McCain Foods (G.B.), McCormick, Moet Hennessy, Molson Coors Brewing Company, Mondelez, Montezuma's Direct, Morrison Supermarkets, Nature's Heart, Ornua Foods, Perfetti Van Melle, Pernod Ricard, Poundland, Princes, Quorn Foods, Red Bull Company, Remy, Sainsbury's, Sense London (Mad Butcher), Shott Beverages, SHS Group, Simply Roasted, Spar UK, Suntory Beverage & Food GB&I, Tesco, Thatchers Cider Company, The Co-operative, The Grocer, The Kraft Heinz Company, Treasury Wine Estates UK, Valeo Snack Foods, Warburtons, William Grant & Sons Distillers Ltd.
Barcode Festival will be held at Magazine, London on the 6 July 2023. Tickets are now available.