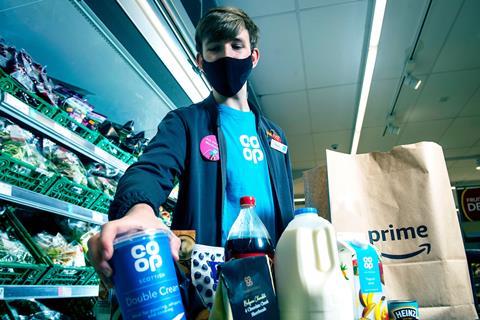 Amazon and Co-op have expanded their delivery partnership into more stores following a launch in Scotland.
The service will be available in Bournemouth, allowing customers to choose from thousands of groceries including Co-op own-brand products and Co-op Fairtrade selection, with a same-day delivery included with Prime, subject to availability, on orders over £40.
Co-op on Amazon launched in Glasgow in September and it is expected to be expanded to more Prime members across the UK in the coming months.
Head of Amazon UK Grocery Marketplace Olivier Girard said: "Our partnership with Co-op is another way for us to provide our Amazon Prime customers with more choice, value and convenience to shop for their everyday groceries. The launch of Co-op on Amazon.co.uk means Prime members in Bournemouth will be able to use Co-op on Amazon as part of the benefits, at no extra cost, wherever it is available. Prime provides access to the best of Amazon, and we are looking forward to being able to expand the offering to more of the UK throughout the course of the year".
Co-op's Head of eCommerce Chris Conway said: "With convenience at the core of our approach we are committed to finding new ways to expand access to our products and services, and we are delighted to be able to share our products on Amazon.co.uk. Co-op on Amazon will offer shoppers a shopping experience, with ease, speed and, choice of great value products, conveniently."
ConvenienceStore.co.uk recently spoke to Snappy Shopper CEO Mike Callachan about the growing rapid delivery market and how the competition is heating up.