Independent retailers Dennis and Linda Williams have been inundated with messages of thanks and praise from local shoppers after establishing a successful Hardship Fund for people struggling to make ends meet as a result of the coronavirus crisis.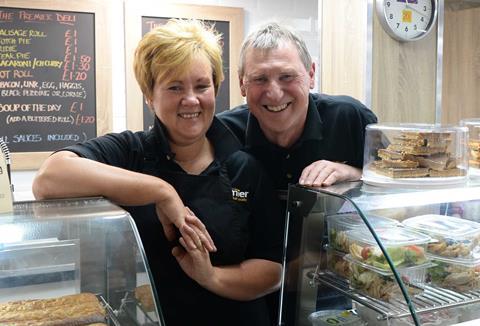 The couple, who own Broadway Convenience Store in Edinburgh, launched the fund with a £300 target last week.
However, thanks to the "unbelievable generosity" of local people, the target was smashed in less than 40 minutes.
To date, almost £5,000 has been raised, with Dennis and Linda having added a further £1,000 of their own money in, taking the grand total to £6,000.
The sum, which is still growing, will enable Dennis and Linda to provide food, essential items and money for gas and electricity to local people who are struggling with loss of income as a result of coronavirus.
"I'm just overwhelmed by people's kindness and care for each other at this incredibly difficult time," Linda said.
"Every time I look at the fund it brings a tear to my eye, we've had loads of donations online and I've had people coming up to me in the street and in the store with £20 notes and envelopes of cash, it's just incredible."
One of the fund's first recipients was a young vulnerable person who was not able to buy food over the weekend, while the local foodbank was closed. Thanks to the fund they were provided with a basket of food and money for electricity.
"That person was exactly the kind of person that the fund was set up to help," Linda said. "Unfortunately, there are lots of people like that who are falling through cracks in the system at the moment.
"There are benefits and there is help out there but these things take time to set up and people need help now, so that's what we are doing."
People who require help from the fund can apply to Linda and Dennis in "complete confidence".
"This is not charity, it's help and we all need help sometimes," Linda added.
The store's Facebook page has been flooded with messages of thanks from local people and praise from fellow retailers in recent days.
One customer posted: "You guys are amazing! Yet again Linda and Dennis have done something fantastic for our community. Thank you so much for everything that you do."
Another wrote: "Absolutely amazing the amount you have already raised and so very generous of you and Dennis to donate such a large amount too. Dennis's dad would be so proud to see what you have both done, how you have run the shop and built it up to be even better over the years and how you support the community, especially now. Well done."
All coronavirus advice is available on Convenience Store's Shopsafe page here.