Retailers across the country are rewarding their "heroic" members of staff with bonuses, extra holiday and financial aid to support them through the current challenging climate.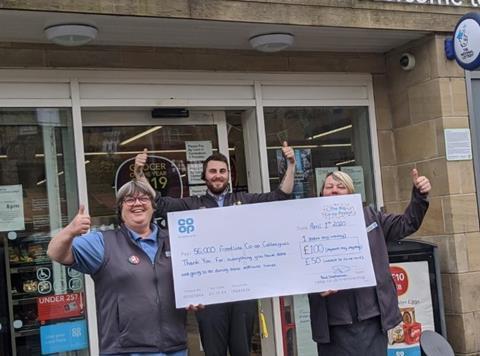 The Co-operative Group is rewarding 56,000 of its "font-line Co-op colleagues" with one extra-days holiday, an extra £100 in their pay cheque for May and £50 on their Co-op cards as a "thank you for everything [they] have done and are going to do during these difficult times".
Central England Co-op has also brought forward its annual share of profits and increased its colleague discount as a "thank you to all those who have gone above and beyond at this time".
Chief executive Debbie Robinson said: "Our colleagues and key workers are doing everything they can to ensure our communities continue to be supported during this uncertain time.
"In the spirit of co-operation, we wanted to say thank you by giving them a little something to showcase our gratitude for their hard work and dedication."
Ronak Patel of Budgens Arbury and a Nisa Local in Cambridgeshire has given all of his staff a £50 voucher to shop for essentials in-store, to see them through to the next pay day.
Pippa Heritage also said she hoped to be able to repay her staff for their services.
"My staff have been brilliant. They are going to get a bonus when all this is over," she told C-Store.
Social media has been inundated with images of hard-working convenience store staff over the weekend and customers have come out in force to praise them.
Commenting on staff at Broadway Convenience Store (Premier) in Edinburgh, one customer posted on Facebook: "Can't fault the amazing staff at Premier one bit! They are going above and beyond to help the community threw these hard times."
Store owner Dennis Williams said he "couldn't agree more" with the comment. "Our staff are exceptional, they are all going well above the call of duty, delivering incredible service with a smile in these challenging times.
"We're certainly planning to reward them with a bonus and a night out when all this is over," he said.
Another customer of David Charman's Spar Parkfoot in West Malling, Kent, also posted on Facebook: "Staff have been fantastic during the COVID19 situation. They work so hard to keep shelves stocked and are so polite and helpful. Absolute heroes!"
Association of Convenience Stores (ACS) chief executive James Lowman also praised hard-working staff. "The UK's 405,000 convenience store colleagues are going above and beyond, keeping communities going during this unprecedented period of uncertainty. The people working in convenience stores are real heroes, helping to feed the nation and support the most vulnerable."
In the wider grocery industry, Sainsbury's plans to give colleagues a payment of 10% of the hours they have worked since March 8, while Aldi store and distribution staff will receive a 10% bonus on hours worked, effective from 9 March 2020.
Tesco has also said that staff will receive a 10% bonus on their hourly rate, while Asda has offered staff an extra week's pay in June.