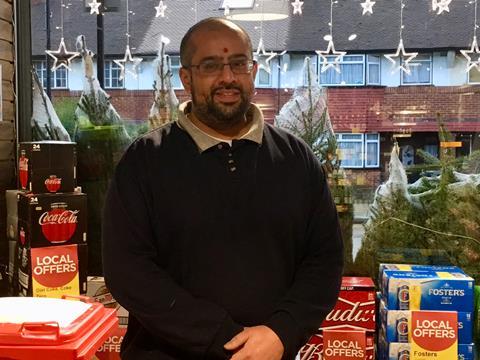 Pratik Patel, owner of Jay's Budgens in Crofton Park, London, says his niche range of snacking products and chocolate bars are pulling in the punters.
"We have a lot of young families with kids coming into our store so our snacking range is always really popular. The Torres Black Truffle crisps have done extremely well for us, especially considering their premium price point.
"Even the smaller 40g bags cost £1.50 and the larger 125g bags are £3.75 each. We've noticed that our customers are willing to spend more on products that they know are high quality and sustainably sourced.
"That's why our Cooks frozen range does so well and it's the same story with our local baked goods. The soughdough loaf we get from our local baker in Brockley is one of our most popular lines, despite being priced at £4 for a 800g pack. I've been in retail nearly 40 years and sometimes even I'm surprised what will sell!"
Star performers: "Our beers, wines and spirits have been selling really well. We've introduced more lines from local breweries and expanded our canned offering."
Successful NPD: "We recently brought in a range of chocolate bars from Ombar, which have been a big hit. Again, they are premium with a price of £2.99 for 80g or £8.99 for a gift box, but customers seem to really like them."
Ombar expanded its chocolate range with a new gift box this year, containing four of the brand's best-selling organic, vegan and fair trade bars, including: coco mylk; coconut 60%; 72% cacao; and 90% cacao.
All Ombar products are made using raw cacao to create a rich and natural flavour and are available to independent stores now.