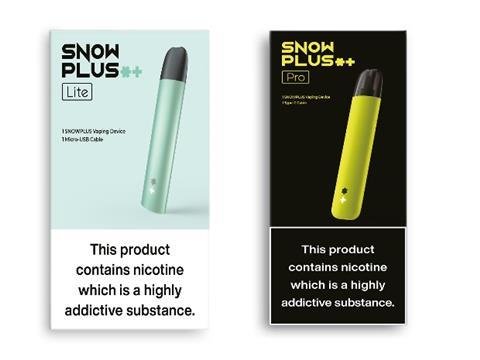 Vaping brand SnowPlus has launched two product ranges into the UK market.
Previously available in China, Malaysia, Indonesia and the Philippines, the brand is initially launching into the UK with two core devices. The SnowPlus Lite is a lightweight vape aimed at those that vape on the go, while the SnowPlus Pro has more features than the Lite available at a higher price point.
Both vaping pens feature the SnowPlus TrueFeel technology which facilitates an immediately effective vaping experience from the moment you start using the vape. Entry price points include SnowPlus Lite (£14.99RRP) and SnowPlus Pro (£24.99RRP).
SnowPlus Classic Pods come in a pack of three (£7.99RRP) and will also be available in the UK in five different flavours – Mint, Classic Tobacco, Lychee, Mango and Grapefruit.
SnowPlus founder and CEO Wang Sa said, "It is incredibly exciting to be launching here in the UK. We've spent the last 18 months building a positive reputation across the world as a brand that provides unparalleled quality in its products, and we cannot wait to bring that same ethos to the UK.
"We've been putting our customers at the heart of every decision made and when it comes to vaping, we're on a mission to create the best experience possible. We're looking forward to sharing this same passion and care with our UK customers."