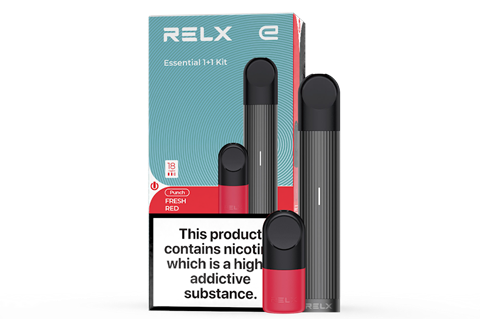 RELX International has added the RELX Starter Kit to its lineup of next generation vaping products.
The closed-pod starter kit which is priced at £8.99, includes one pre-charged black RELX Essential, plus one closed pod, either Fresh Red or Menthol Plus and a USB charging cable.
RELX Starter Kit aims to provide existing adult smokers and vapers with a convenient easy-to-use system, containing all the elements required to enjoy a seamless, premium vaping experience.
The RELX Starter Kit is available to purchase on RELX's website and for all eligible retailers to stock, including independent convenience stores, vape shops and shopping kiosks.
Senior trade marketing manager at RELX International, Micaela Sangiovanni, said: "Consumers are showing an ever-growing interest in switching from cigarettes to vape devices. Convenience is a key shopper trend and an important factor in next-gen nicotine selection, as more regularly, consumers are looking for a quick in-store transaction and an easy to operate vaping system.
"The RELX Starter Kit is perfect for adult smokers and vapers looking for an easy-to-use device as the kit contains all the elements required for a premium vaping experience, including a closed pod which is easily slotted into the device and can be activated instantly for people on the go."