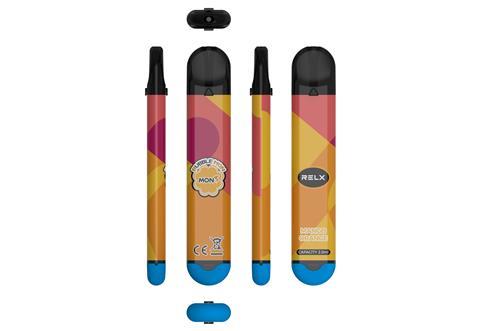 RELX International has added two new disposable vape brands to its range of premium vapes.
RELX x BubbleMon and WAKA Mini devices are due to launch in summer 2022.
WAKA Mini contains 700 puffs, and comes in five flavours: Cherry Bomb, Triple Berry, Watermelon Chill, Mango Orange and Peach Apple.
RELX x BubbleMon launches with 600 puffs and 10 flavours, including Strawberry Watermelon, Berry Ice, Raspberry Grape, Lychee Mango, and Bluecurrant, with eight additional flavours, including Blood Orange, Breakfast Tea and Mango Orange due to be released in the near future.
Mica Sangiovanni, senior trade marketing manager at RELX International, said: "Following growing consumer demand for convenient products that simultaneously offers impeccable quality and great flavour, we've decided that now is the time to enter the disposable vape market.
"That's why we are so excited to launch RELX x BubbleMon and WAKA Mini, two exciting new disposable devices offering adult smokers and vapers an unmatched vaping experience, with all the convenience and ease of a disposable."