Old El Paso is on a mission to highlight its vegan-friendly Smoky BBQ Fajita Kit as a tasty meat-free meal choice in a £1.5m marketing campaign.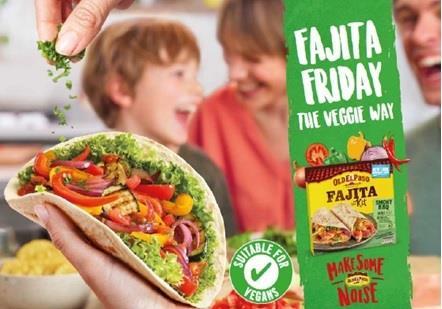 'Fajita Friday, the Veggie Way' aims to tap into demand for healthier choices post-Christmas and appeal to those joining the Veganuary movement. The company said that last year a record quarter of a million people signed up to Veganuary.
The UK's number one Mexican food brand (Nielsen, 25 w/e 23 November 2019) will return to TV screens throughout January alongside radio and VOD advertising, shopper marketing, plus a social campaign engaging veggie and vegan influencers.
Old El Paso marketing manager Lindsay Hill said: "With January a key time to go vegetarian or vegan, it's the perfect opportunity to showcase the natural link between Mexican and vegetables and offer shoppers a fresh, colourful meal solution.
"Our new 'Fajita Friday, The Veggie Way' campaign also demonstrates how brilliantly customisable Mexican meals are; meat can be swapped out for extra veggies or healthier protein substitutes to cater for the whole family."
The campaign runs until 30 January.