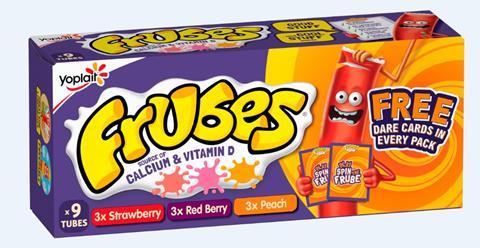 Yogurt snack Frubes has unveiled a new pack design, ATL campaign, and gift-in-pack promotion.
Available now, the new and improved design showcases 'Fruberly Fingerz' on-pack which focuses on arts and crafts activity to brings to life its characters.
Tapping into the Return to School period, Frubes is also set to launch an ATL campaign and gift-in-pack promotion in the New Year. Live throughout the month of January, the campaign will be rolled out across TV, video-on-demand, YouTube, digital programmatic and in-store.
In the activity, the Frubes tube character will be seen kicking the seat in front of a school bus and doing everything it can to get eaten by a kid – which is does, highlighting the portability and snackability of Frubes as well as the lunchbox occasion.
In addition to the campaign, a gift-in-pack promotion, 'Spin the Frube' is also available until 31 January offering consumers a free card game in every pack.
The new campaign is expected to reach 4.2million people within Frubes' target audience. Retailers are encouraged to stock up on the range to meet increased demand. Frubes is available in grocery and convenience with an RRP of £2.00 per pack
Marketing manager Joanna Goodman Yoplait UK said: "September was our biggest ever Back to School period, achieving the strongest monthly market share in 18 months (+14.8%) and growing 26.6% in value.
"We want to jump on this success with our new pack design and the ATL and gift-in-pack promotion we have in the pipeline for the January back to school period. At Frubes, we encourage and inspire families to have more moments of laugh-out-loud fun and we're confident our upcoming activity will do just that."