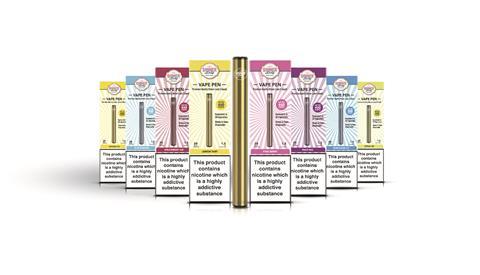 Vape brand Dinner Lady has launched a new disposable Vape Pen range.
The Vape Pen is available in eight flavours, including the brand's award-winning Lemon Tart, as well as new-to-the-UK blends Banana Ice, Citrus Ice and Strawberry Ice.
Each one delivers 400 puffs of 20mg salt nicotine e-liquid, approximately equivalent to a 20-pack of cigarettes, with a retail price of £4.99.
The new Vape Pen disposable has a Grade A 350mAh battery, 1.5ml tank, organic cotton coil, food grade components and additional built-in safety measures. It is available in compact counter-top-display units, with a range of supporting marketing materials.
The Dinner Lady Vape Pen has been primarily designed with smokers in mind, to support their transition away from combustible cigarettes. Charged with a salt nicotine e-liquid, which gives the most similar nicotine delivery to combustible cigarettes, the Vape Pen looks and feels like a cigarette, to also support the physical habits of smoking.
Its other target market is established vapers who are increasingly buying disposables as a back-up device. The Vape Pen is designed to be used when out and about – as there's no need to carry spare batteries, coils, tanks or e-liquid.
Dinner Lady chief marketing officer John Taylor said: "We have carried out a lot of research and insight to develop the Vape Pen, and we are confident the new Dinner Lady disposable will be a big success.
"With the predicted growth for the sector, combined with consumers' increasing need for convenience products – partially driven by the changing retail market during the COVID-19 pandemic – the new Dinner Lady Vape Pen will be a must-stock item for retailers.
"It has a better battery, better coil and – by optimising our already superior e-liquids specifically for the device – a better flavour than any comparable product on the market."