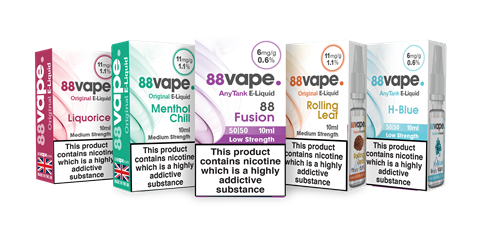 SIM card and mobile accessories distributor Core Group is to supply 88vape to independent retailers on behalf of parent company, Supreme PLC.
Core will distribute 88vape's 11 top-selling flavours across two nicotine strengths, 6mg and 11mg, along with a range of 88vape hardware and devices.
The 88vape deal extends Core's fast moving consumer goods product portfolio, with vaping liquids joining mobile phone accessories, including the highly successful Core Bolt range, along with replacement screens and batteries. The deal marks a major development for Core, explains
Core CEO Tony Greaves said: "We pride ourselves on listening to our customers and responding with product innovation and new product categories that will add value to their business. Vaping fits that bill perfectly.
"This deal will see us distribute 88vape to our independent convenience retailers, offering the best-selling vape value brand, in a range of popular flavours and strengths, giving customers exposure to the rapidly growing UK vaping space."
Supreme PLC's CEO Sandy Chadha added: "This is a milestone deal for us. E-cigarettes and tobacco account for almost a third of total basket sales and rising in independent convenience stores."