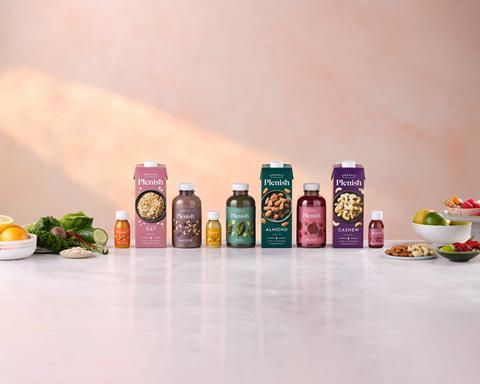 Plenish, the plant-based drinks brand, has announced a full brand refresh and new premium packaging across its plant-based milks, juices and shots.
With the aim to bring its natural and quality credentials to the forefront and drive wider appeal, each product now showcases their ingredients through on-pack imagery whilst introducing a warm colour scheme.
Founder of Plenish, Kara Rosen, said: "Having started Plenish 10 years ago this year, it seems fitting to mark that momentous milestone with the latest expression of the Plenish brand. The business has grown beyond my wildest dreams, from cold-pressing juices in my kitchen all those years ago to a range of juices, milks & shots sold in thousands of stores across the country. One thing has always united every product we've ever made – an obsession with using only the finest natural ingredients and nothing else. Nature is our number one supplier and with our new look we wanted to hero those amazing ingredients in all their natural glory. We've always believed that Less is Moreish, and now it's there for all to see."
All bottles remain recyclable and made with 100% recycled materials, and 35% of the plastic in Tetra is now made from bio-based sources, demonstrating the brand's ongoing commitment to sustainable practices.
Alongside the evolved packaging design, the refresh will be supported with the launch of a new website and a 360-marketing campaign across BVOD, YouTube, PR, social media and in store activation. From 15th March the new look branding for Plenish's plant-based drinks will be available at Waitrose, Tesco, Sainsbury's, Co-Op, Planet Organic, Whole Foods and Amazon. Plenish shots are also now available at Asda. The full range can be found on Ocado and online at PlenishDrinks.com.