As retailers try everything they can to get customers through the door, C-Store asks store owners how they appeal to cash-conscious shoppers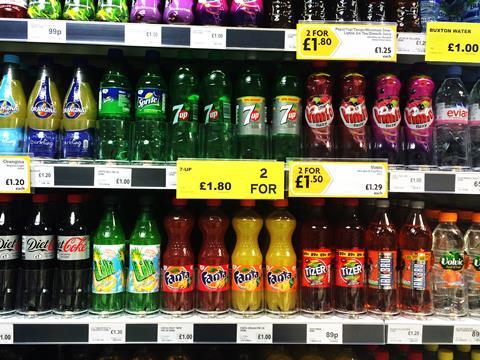 Whether it's a weekly shop or a daily top-up, there is more choice of shopping venue than ever before. And it's this that Meten Lakhani, who owns Premier St Mary's Supermarket, Southampton, believes is putting more emphasis on price. "Customers are very price conscious now, more so than over the past five years. They are also more price savvy. If they can get something cheaper down the road they will go there as there is no loyalty these days. This puts pressure on independent retailers to make sure they offer competitive prices," he says.

Mos Patel, owner of Family Shopper Broadoak in Ashton-under-Lyne, agrees that customers are more price aware. "Five years ago customers would make do with the prices in a shop, but now they will walk for an extra 20 minutes and past two other shops just to get 20p off of their milk. It's amazing," he says.
77% of shoppers say that price is important
According to a study carried out by HIM Research & Consulting last year, 77% of shoppers say that price is important, so it's no surprise that Mos says promotions are a big part of his offer.

"We run permanently competitive prices on bread, milk and toilet paper, because customers want to know that they can rely on you for cheap prices on the things they need. When it comes to other offers on other lines, we run those promotions for a month then change them. This means that customers are kept interested and might try a new product because it is on promotion."

In fact, more consumers are buying on promotion, with 22% of shoppers saying they consistently bought on promotion in c-stores last year, compared with 20% in 2015 and 17% in 2014, according to HIM.

Mos believes that a big part of this growth is down to the rise of the discounters. "More and more shoppers are going to discount stores for cheaper prices and they have realised that convenience stores can also offer value for money and competitive prices," he points out.

According to latest Nielsen data, Aldi and Lidl now account for 12% of UK grocery sales for the first time. During the 12 weeks ending 25 February 2017, Aldi grew sales by 12% year on year (YOY) while Lidl grew sales 9.1% YOY, capturing a combined 12.3% market share.

Mike Watkins, Nielsen UK head of retailer and business insight, says: "Aldi and Lidl's momentum continues due to new stores opening and the average shopper spending more, testament to the wider and higher quality of products available."
Pricemarked packs
For Siva Theivanayagam, who owns four Nisa stores and a Londis in Peterborough, pricemarked packs in key lines are helping to drive basket spend. "PMPs are a great way to increase sales. We sell more of our PMP range of multipacks of chocolate confectionery than we do of singles. By stocking PMPs it can sometimes entice customers in to spend a larger amount even if they are buying more than they had intended."
PMPs are a great way to increase sales.
According to HIM, one in three UK adults say that knowing a convenience store sells PMPs positively influences their decision to visit that store. In fact, 79% of shoppers view PMP as a promotion and 44% of shoppers are more likely to buy a PMP product on impulse.

Leading manufacturers such as Coca-Cola and Princes have been creating PMPs with independent retailers in mind. Princes marketing director Graham Breed says: "By stocking PMPs, independents have an opportunity to provide value to the customer and help them to understand when they are getting a good deal."

Breed says that Princes has PMPs running on variants of Jucee squash, Branston baked beans, Princes canned fruit, Napolina pasta and Crisp 'n Dry oil. "The nature of pricemarking as a promotional platform draws attention to the product, and many of our PMP products can lead to sales in other areas through sales of products for occasional and top-up missions."

Amy Burgess, trade communications manager at Coca-Cola European Partners (CCEP), also emphasises the importance of stocking PMPs. "Value for money plays a big part in consumers' shopping decisions and PMPs are an ideal tool to help retailers grow their sales.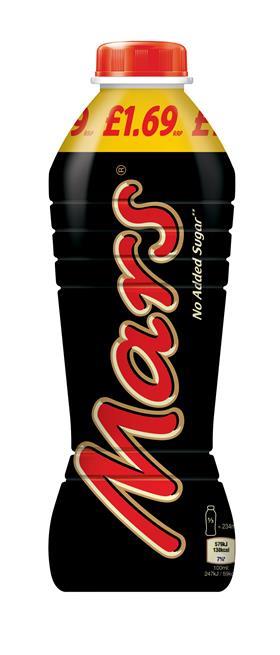 Mars milk drinks in pricemarked packs
Mars Chocolate Drinks has introduced its eight-strong range of 350ml milk drinks in pricemarked packs.
The full range of £1.29 PMPs includes some of Mars' most popular confectionery brands including Mars, Galaxy, Milky Way, Bounty, Mars Caramel and Skittles, along with a new 350ml Maltesers variant. The 702ml Mars Milk bottle is also now available as a PMP (£1.69).
The company says the ambient drinks, all offering eye-catching packaging, are best presented in refrigerators, chilled and ready to consume.
Michelle Frost, general manager for Mars Chocolate Drinks and Treats, says: "Our 350ml milk drinks range is a huge category driver. By moving into PMPs, we hope to see even more category growth by offering retailers the opportunity for more impulse purchases."
The chocolate milk drinks range from Mars Chocolate Drinks continues to outperform the category and is worth £24.2m, while Mars Milk is a bestseller, accounting for 69% of all sales within the range, according to IRI data 52 weeks ending 24 December 2016.
"PMPs are provided at a price that offers a fair and competitive margin that helps to increase consumer appeal by offering a great perception of value, while allowing our customers to reap the full benefits of increased sales. We offer a wide range of pricemarked Coca-Cola packs, including £1 500ml bottles, 65p 330ml cans, and 1.75ltr PET bottles pricemarked at £1.69," Burgess adds.

PMPs play a big part in Amit Patel's Belvedere Food & Wine in Kent. "While you don't necessarily make good margin on PMPs, you can build up customer loyalty and trust as they want big brands they can trust at round prices. Some of our most popular pricemarked products are 1.5ltr Coca-Cola and Diet Coca-Cola at £1.69 or two for £2.50, because they play into that exact trend - big brands for round prices. In the future I can see PMPs becoming even more important as customers are searching for value."
Pricemarks
Protein drinks gets a Boost
Boost Drinks is following up the launch of Protein Boost to the UK market at the start of 2017 with a range of point-of-sale tools to support retailers.
The new marketing material includes A2 and A4 posters, shelf talkers and wobblers. Retailers can also book up consumer tasting days.
Protein Boost comes in 310ml individual plastic bottles with two flavours, chocolate and strawberry. Each £1.29 pricemarked bottle contains 20g of protein, no fat, no added sugar and less than 150 calories, in a convenient eight-bottle case.
Boost strategy director Kirsty Birks says: "Protein Boost was an exciting piece of product development for us. While the health and wellbeing agenda has continued to gain momentum, we saw a real gap in the convenience sector for protein drinks.
"Protein Boost offers a simple, convenient and tasty way to take in protein in a format that is not available in the multiples, while offering a great price point and strong profit margins."
Merchandising
Making sure shoppers get the value message, though, amid the sea of price flashes is becoming a challenge for retailers. HIM finds that more and more promotions are falling in effectiveness as a footfall-driving mechanism and point of difference in convenience. Its data shows only 10% of shoppers chose a store because of its promotions last year compared with 20% in 2015.

Alan Bird, commercial director at Wessanen UK, brand owner of Whole Earth, Kallo, Clipper Teas and Mrs Crimble's, says it is important for both retailers and manufacturers to take the consumers' blinkers off by creating a visual impact to help products jump off the fixture.

He says: "This can be achieved with POS placed by the retailer and attractive product design and outer case design created by the manufacturers. Clipper's colourful and eye-catching packaging helps the product stand out on the shelf."

He adds: "Bespoke POS, counter-top stands and gondola ends can be used to highlight promotions, constantly reminding consumers what's in store to inspire them to make purchases."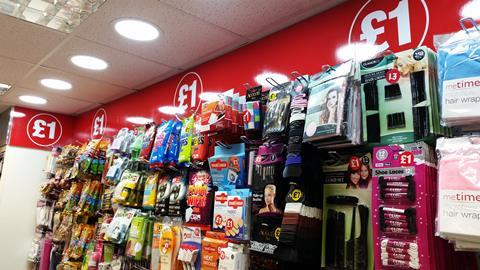 "POS material is important," asserts Meten. "It helps to communicate a promotion to customers very simply because it stands out and carries a short message, keeping things straightforward. We have a £1 zone which uses POS material to stand out and let customers know that all the items in that bay are just £1. It offers them great value and they know where to find it.

"The key is to communicate it in as few words as possible. Customers want to be able to come in and see for themselves the deals in their most simple form."

Promotional bays are effective way to group together promotional items. HIM found that the categories that performed best in a promotional bay were crisps and snacks (31% bought on promotion), alcohol (30%) and confectionery chocolate (29%).

While Meten has a leaflet that he sends out once a month to tell residents and students about deals, Amit says that he is increasingly looking to social media to communicate deals to customers. "Social media can be a great tool in getting the message out there that we have a specific promotion on and we do this regularly on our Facebook page and Twitter profiles and we are seeing results," he adds.

However, Meten warns that it doesn't pay off to go over the top on promotional activity. He explains: "It is important to get the balance right between products that are on promotion and those that aren't, because ultimately you can't just become a discount store because the cash margins will suffer. That is why we rotate our promotions and customers who used to buy a premium brand on promotion might also buy it off promotion, which means we can pick up the margin on that item."

Amit agrees it is important to strike a balance. "We like to run our own promotions because we are an unaffiliated convenience store, and being able to run our own promotions gives us the flexibility to mix things up and run promotions that we think will work and leaves less room for risks, plus I like to have control over my own margins," says Amit.
Combo deals
HIM found that promotions as an impulse mechanism are also falling in effectiveness, as one-third of c-store shoppers who bought on impulse last year did so because of a promotion or special offer, down from 43% in 2015.

Mos Patel says that he uses a number of different mechanisms in his store to encourage shoppers to try new things. "We use a lot of combination deals and multi-buy deals in store. This works best on specific categories such as soft drinks. Our most popular deals are two bottles of Coca-Cola or Pepsi for £2.50 and multipacks of crisps for £4 and we run popular deals in confectionery, too.

"Combination deals are where more and more promotions are going and I expect more manufacturers and wholesalers to continue this trend as retailers try to encourage a customer to buy all their meal time ingredients from them. An example of this is with our lunchtime meal deal. We offer sandwiches at £1 when bought with a crisps and drink."
Snack attack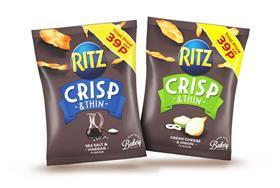 Ritz Crisp & Thin is aiming to help independent retailers drive savoury snack sales with a 39p pricemarked pack. Available now until the end of May, the PMP will run across cream cheese & onion and sea salt & vinegar variants of the on-the-go 30g format.
Emma Jenkins, owner of Milverton Stores in Taunton, Somerset, finds meal deals work well in her store. She says that she is trialling a chilled meal deal to feed the family for £10, where customers can pick up all the necessary items to make a meal such as a roast dinner. "We also have the same deal on frozen foods for a £5 price point as we look to respond to the growing demand in easy-to-prepare meals. I believe that customers are more likely to buy something to accompany their evening meal if it is discounted as part of a meal deal."

Meanwhile, in Southampton, Meten has been working on deals tailored to the large cash-conscious student population. "We have a link deal for two pints of milk and a loaf for £1.70 and that's really popular with the students, and they reward us in return with their loyalty. We also try to do link deals where we can, for example, if you buy a jar of Nescafé we give you a free KitKat, or if you spend £3 on frozen vegetables we give you a tin of baked beans for free," explains Meten.

The retail sector may be ever-changing and consumer shopping habits are shifting, but will consumers' attitudes towards price change? Meten thinks not. "I can see customers maintaining this focus on price for years to come and this makes it even more important for retailers to offer the right kind of promotions."
Rustlers launches Gourmet range with pricemark
Rustlers, the flame-grilled microwaveable snack brand, is reinforcing its commitment to doubling sales in convenience by 2020 with two new gourmet burgers in pricemarked packs and eye-catching packaging.
The Rustlers Gourmet range (£3 PMP), packaged in a premium cardboard sleeve, comprises: The Classic Burger with cheese, streaky bacon, American-style mustard mayo and tomato relish; and The BBQ Burger with cheese, streaky bacon, crispy onions and a smoky BBQ sauce, both made with 100% beef, in a brioche bun.
The Gourmet launch coincides with new packaging introduced across the Rustlers range, featuring a new-design Rustlers logo sitting over a grill with flames coming through.
Adrian Lawlor, Kepak convenience foods' marketing and business development director, says: "Rustlers Gourmet burgers will attract new shoppers and build on the brand's new 'Great Taste, Great Beef, Always' positioning."