Welsh retailer Gareth Jones has revamped his 1,000 sq ft convenience store in Gilfach, Bargoed, by joining the Best-one fascia and investing £50,000 in a full refit of the site.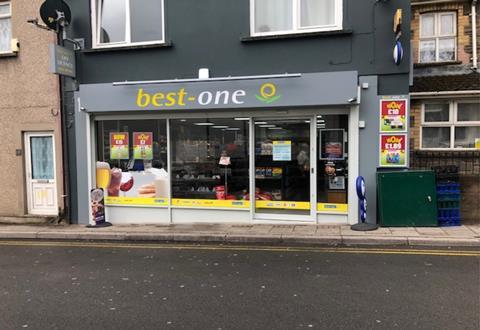 The store reopened on August 3 and store owner Gareth has seen sales jump 50% in the first week since joining Bestway Wholesale's symbol group.
Sales since the revamp have increased to £15,000 with impressive growth in food-to-go and chilled. The refit of the store included new chillers for beers, soft drinks and food as well as a new layout to make the store easier to shop.
Commenting on the refit, Gareth said: "Having been in retail for many years, my store was doing well but I wanted to take it to the next level.
"I am delighted with the results; the kerb appeal is much better which has brought new shoppers into store and internally the look and feel is fantastic throughout. Shoppers are now really impressed with the store, its layout and its ease of shop with every category clearly signed. I am particularly pleased with the new food-to-go area and the licensed section which really makes a huge difference in terms of footfall and basket spend. I am confident that I will recoup my investment within two years."
The revamped store now boasts a new grab and go section with chilled sandwiches, a coffee station, Rustlers microwave and a healthy snack bar.
Gareth also runs an unaffiliated store one mile away from Bargoed and is looking to refit his second store or relocate to a larger site next year, following the success of the Gilfach revamp,
James Hall, symbol development director for Best-one, added: "Gareth's store is a fantastic example of what can be achieved by investing in your business. We looked at trends in his area and introduced a food to go provision and a vapestation which will bring in additional footfall in addition to creating a modern shopping environment for his existing customers.
"This is what we do - we look at existing stores and see how we can add value for retailers and for their customers by enhancing the offer. I am delighted for Gareth that initial sales have gone really well and am sure he will be a great addition to the Best-one family."