A One Stop franchisee in West Lothian has helped pressurise a gas company into pausing roadworks that were crippling her business.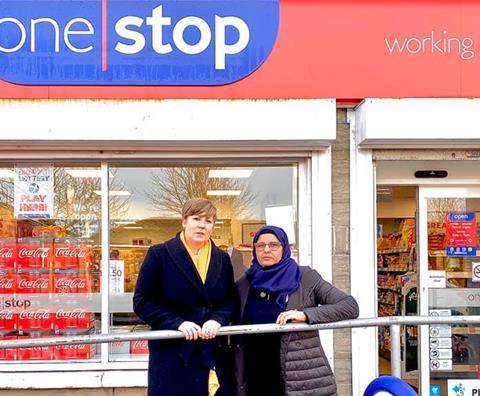 Yasmin Mohammed joined forces with her MP, Hannah Bardell, and other independent retailers in Stoneyburn to seek a resolution to gasworks in the village, which started on 6 January and were due to continue for 11 weeks.
She had warned that the future of her business was at stake due to the roadworks that had split the village in two and led to a 50% drop in store sales.
"It's currently a 12-mile detour to get from one side of the village to the other. The weather has been so bad that it's a nightmare to walk in – you should see the state of people who walk in," she said. "It's crippling my business."
Gas distribution company SGN, which is carrying out the work, has now decided to pause the works within a week, before conducting a full consultation with the local community and businesses, according to Bardell.
Yasmin welcomed the decision, but said she was "disturbed and upset that something that was previously impossible is now possible".
"We understand the work needed to be done, but we wanted it controlled with traffic lights. The council had said they couldn't do it with traffic lights because of health and safety concerns," she added. "Now it's suddenly possible. We have a right to be respected and to be consulted on things which affect our lives."
Hannah Bardell MP wrote on Facebook: "I'm very pleased that after significant representation from the local community and elected representatives such as myself SGN have decided to pause works after phase 1 and do a proper and full consultation with the local community and business.
"This should have happened in the first place and I recognise there has been and will still be significant disruption and loss which needs to be considered for compensation by SGN."
Yasmin said the only advanced warning she had received about the roadworks was a notice on the council website just before Christmas saying "work was being done".
She said her MP had been "amazing" in her support and the issued had featured in a TV report on STV News.
Bardell added in her Facebook post: "I saw first hand last week the huge impact this issue has had on local residents and business. I am very angry that the consultation by SGN and the local council has been so poor but very pleased they have now recognised the grave impact and are finally listening to the people and businesses of Stoneyburn."
SGN's md for Scotland and Northern Ireland, John Lobban, said: "We appreciate the feedback and concerns from the local community and businesses.
"We will endeavour to work with the local community to address any concerns and we will work with local business to ensure the process for any potential compensation is streamlined and they receive any assistance they may require."