The Bank of England's "most secure banknote yet" is set to start appearing in store tills next month.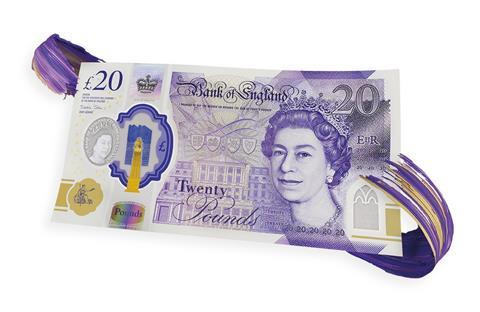 Entering circulation on 20 February, the new polymer £20 note contains an array of never-seen-before security features, including two windows and a two-colour foil, which the bank says makes it "very difficult to counterfeit".
The large see-through window features blue and gold foil on the front depicting Margate lighthouse and Turner Contemporary - in recognition of the famous artist JMW Turner.
The foil is silver on the back. The shape of the large window is based on the shape of the fountains in Trafalgar Square.
A smaller see-through window in the bottom corner of the note is inspired by Tintern Abbey.
The note will also be the first to feature the signature of the Bank's chief cashier Sarah John. She said: "The new £20 is an important part of our commitment to providing banknotes that people can use with confidence. Our polymer notes are much harder to counterfeit and, with the £20 being our most common note, this marks a big step forward in our fight against counterfeiting."
Retailers will be able to accept old paper £20 notes as usual although these will be gradually withdrawn from circulation over the coming months.
Notice will be given six months ahead of the paper £20's legal tender status being withdrawn.