With summer holiday season in full swing, a new campaign is seeking to crack down on the sale of cheap untaxed tobacco, brought back into the UK and illegally sold on.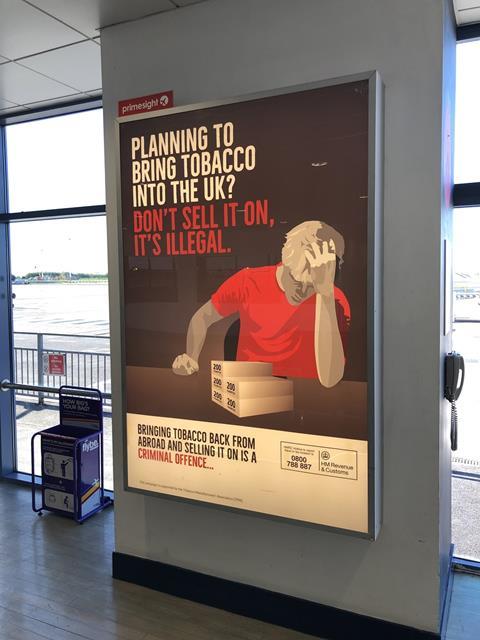 Run by the Tobacco Manufacturers Association (TMA) the new nationwide campaign includes poster and phone box adverts in key tourist hubs including airports, the port of Dover and central city locations in Central London and Edinburgh.
The adverts highlight the fact that reselling any tobacco purchased abroad is a criminal offence, which can be punishable by up to seven years in jail.
The campaign comes as "research shows that the ways people now sell illegal tobacco is getting ever more sophisticated including through social media channels and community websites," TMA director Rupert Lewis said.
Convenience Store has been contacted by a number of independent retailers complaining about the illicit sale of tobacco on social media sites such as Facebook in recent weeks.
Last month, and following a concerted campaign by independent retailer Kate Mills, of Heath Stores in Horsmonden in Kent, Facebook finally committed to taking action against individuals caught advertising illicit tobacco products on its site.
Kate reported more than 30 posts advertising illicit tobacco to her local MP (Tunbridge Wells) and former Business Secretary Greg Clark, who took up her fight.
In a statement issued to Convenience Store today, a Facebook company spokeswoman said: "We are updating our regulated goods policy to prohibit the sale of alcohol and tobacco products between private individuals on Facebook and Instagram.
"Our commerce policies already prohibit the sale of tobacco or alcohol in places like Marketplace but we're now extending this to organic content."
According to the TMA's 2018 Anti Illicit Trade survey of 12,000 smokers from across the UK, 4% said they bought tobacco via social media websites advertising cheap tobacco more than once a week.
In addition, 16% of smokers surveyed said they spent upwards of £20 a week buying tobacco products that they knew were not subject to UK taxes, via cheap sources including online.
"The TMA campaign reminds people tempted to make some money by bringing back cheaper cigarettes and rolling tobacco to sell onto friends, family members, colleagues or even strangers, that they face serious consequences if they are caught by law enforcement," Lewis added.
"Reselling tobacco bought overseas is not a victimless crime. It directly impacts smaller independent shopkeepers who are forced to compete against illegal tobacco sales and it badly harm their businesses."