The Lincolnshire Co-op has opened its latest convenience store in Lincoln's Cornhill Quarter, following a complex and sensitive build project which saw the historic building's 1919 shopfront and curved glazing restored.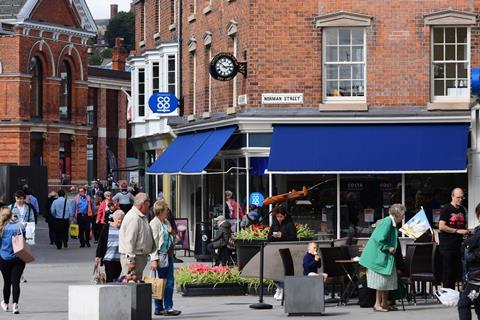 Vintage lighting, tiled flooring and a hanging clock further reflect the 2,577sq ft store's heritage, while a wide range of takeaway drinks, snacks and hot food including Costa Express and Slush Puppie machines, plus a Rollover hotdog unit, cater for modern convenience shopping needs.
A wide range of chilled and fresh meal options including locally produced meats are also included.
The new store, which had also served as the Lincolnshire Co-op's 'Colonial Meat Store' between 1908 until 1916, also features a free water bottle refill station and self service tills.
The project formed part of a multi-million-pound redevelopment of the area which has involved the restoration of a number of historic buildings while being adapted for modern commercial use.
Lincolnshire Co-op chief executive Ursula Lidbetter said: "After years of working on the Cornhill Quarter redevelopment, it's a special moment to be opening our new food store in the heart of the area.
"This is a modern store with high-quality facilities perfect for customers in a bustling city centre environment, whether they're popping out for lunch, grabbing a meal before catching the bus home or refuelling during a shopping trip.
"Throughout the Cornhill Quarter development, we wanted past and present to complement each other so we've thought carefully about that during the store's design. I'm delighted with the results."
Lincolnshire Co-op also runs a pharmacy and post office in the nearby City Square Centre.
A You Tube video of the store can be seen here