Midcounties Co-operative has launched a new initiative to help reduce single-use plastic through point of sale (POS) material.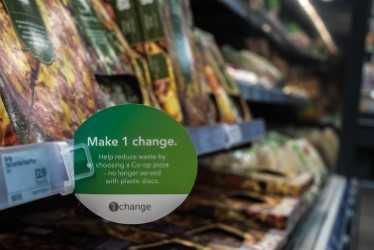 Under the '1Change' scheme POS material has been introduced in 40 Midcounties Food stores to guide consumers on making more informed decisions on single use plastic.
The material offers a range of simple suggestions to help customers at the point of purchase to reduce single-use plastic consumption, and incorporates Midcounties Co-op's waste reduction objectives, which include reducing waste in its operations by 20% by 2022.
Midcounties Co-operative social responsibility manager, Mike Pickering, said: "We recently conducted a sample survey among our 700,000 members and the vast majority of respondents said reducing plastic is a high priority, so we've implemented the 1Change initiative to help us and them to do so.
"1Change neatly encapsulates, in a single message, the possibility of real change when many actions co-operate to have a combined and powerful effect. We have been working hard to raise awareness of the important issues of waste, plastic and sustainability, as well as changing our own operations, and 1Change is designed to help us, our members and the next generation, deliver tangible results.
"The introduction of the unique point-of-sale material in 40 of our Co-op Midcounties Food stores, will help inform and guide the public on single-use plastic and clearly signpost where they can make a change in their own purchasing or waste disposal behaviour. We anticipate that people visiting our stores will become increasingly familiar with the 1Change logo, and hope they become inspired to take part in our collective efforts to create change for good."
The Midcounties Co-operative is also encouraging people to get involved by making their own 1Change pledge to reduce single-use plastic. For more details visit: http://mid.coop/onechangepledge