Independent retailers are playing to their strengths, going the extra mile to support local shoppers with a wide range of new services, essential stock and assistance as the coronavirus crisis worsens.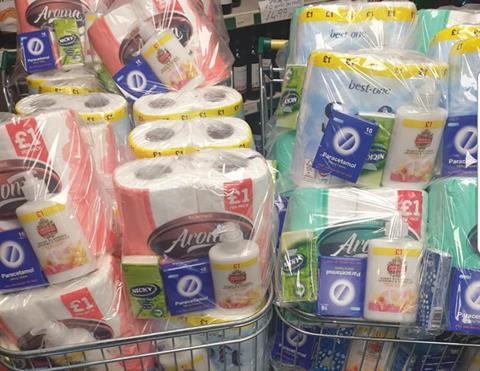 Merseyside retailer Navin Soni spent all weekend trying to secure additional supplies for his Thrifty's chain of independent stores.
"I drove around most of the North West calling upon all my supplier contacts to source as much essential stock as possible," he told C-Store. "As a result we have 40 more pallets of toilet roll and other key lines arriving this afternoon.
"As independent retailers we can do what the supermarkets can't; we've got stock and we've got order in our stores; people aren't fighting each other for toilet roll because we are selling it responsibly and with a smile. I'm also incredibly proud of our staff, they are heroes, all pulling together for the good of the community and caring for each other," he said.
In Birmingham, Harj Gill, of Select & Save in Rubery, said he was visiting depots almost every day to secure stock.
"I know if I just wait for a delivery I'd have nothing left. We've got medicines, pasta, toilet rolls, everything in demand – because we've been well organised. Nothing's out of place in our store – but it does take a lot of work.
"We've had to ditch some offers because the wholesalers have done so, but we'd never increase prices on PMPs as some people have done," he said.
In Edinburgh, Zahid Iqbal, of Day-Today Drylaw is offering free 'Coronavirus packs' for over 65s and infirm customers. The packs include toilet roll, antibacterial handwash, pocket tissues and paracetamol.
Meanwhile in Walsall, Nisa retailers Harjit and Amrit Pahal have secured a substantial amount of hand sanitiser in partnership with LocoSoco and have been bottling it in 100ml and 80ml bottles, for sale at £2.50 and £2.00 respectively.
The bottles are being filled by a local craft group and the store is also working with the Salvation Army which is delivering it to elderly people. "We have also given out 50 litres of free sanitisers to schools – we don't want to look like we're making a profit," Harjit said.
"We haven't put prices up. We're working hard to keep lines available for everyone, and we've rationed toilet roll.
"Turnover and footfall has doubled. People who don't usually shop here are using us. We're not putting money before people. The reaction in the community has been amazing," he added.
Harj added: "We've taken more in one week than the Xmas week – about 24% up – and footfall is up about the same, I've seen faces from all over." But he said people would remember "if you tried to make a quick buck".
A number of convenience stores such as Select Convenience in Bents Green in Sheffield and Newport Village Stores in Saffron Waldon have also launched new home delivery services for the elderly and infirm.