Under-pressure convenience retailers are attempting to prepare for one of the most significant changes to tobacco legislation to date, when the ban on menthol and capsule cigarettes is enforced next week.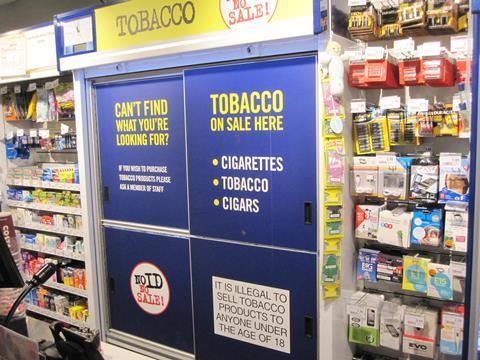 Set to be enforced on 20 May, retailers fear that the ban could lead to widespread consumer confusion and significant changes to tobacco and vape sales mixes at a time when stores are already dealing with unprecedented challenges due to the coronavirus situation.
From 20 May the ban will prohibit the sale of all menthol and capsule cigarette products, leaving an estimated 1.3 million smokers without their normal product of choice overnight.
New data from online vape supplier Vape Club suggests that the ban could prompt up to 39% of menthol smokers to quit tobacco - equivalent to over 450,000 current smokers, or one in every 20.
Of those intending to quit tobacco, 18% said they might switch to menthol vaping products, while 5% said they might use gum or patches, the study, of over 1,000 UK menthol smokers also revealed.
The Vape Club survey also suggested that 56% of menthol smokers were likely to continue to smoke using regular cigarettes or rolling tobacco.
Jamie Patel, owner of Weybridge News in Surrey, said she expected "a large number" of menthol smokers to stick within the tobacco category and switch to newly updated versions of their former menthol tobacco brands, while "some" might switch to menthol heated tobacco and vape.
"However, time will tell," she said.
"The next month or so is bound to be challenging with regards to stock levels and communications as smokers try the new versions of their old menthol brands and either chose to stick, swap or quit."
The store has increased its range of alternative products, including new vape and heated tobacco kits in the lead up to the ban, however, Jamie said it was "very challenging," to talk to customers about the ban at the moment.
"We had thought that we would be able to step up education in the weeks leading up to the ban but with the virus it's been difficult as obviously people are trying to limit the amount of time they spend in store," she said.
"Fortunately, we have some leaflets that various manufacturers, including PMI for its Iqos brand, have supplied us with, which we are handing out for menthol smokers to read at home."
Additional insight into the possible impact of the menthol ban on tobacco and vape sales from HIM & MCA suggests that 22% of current menthol smokers will switch to reduced risk products (RRP) after the ban.
"Of these, 16% say they will switch to vaping and 6% say they will switch to menthol heated tobacco," HIM & MCA senior insight analyst Alice Dolling said.
A recent survey by HIM and MCA also revealed relatively low consumer awareness of the looming ban, with two in five adult smokers unaware of it.
The findings are supported by a further survey of 2,091 adults conducted by Populus for the smokers' group Forest which also found that almost 40% of smokers were oblivious of the new regulations.
Forest director Simon Clark said: "This is the worst possible time to prohibit the sale of a product enjoyed by almost a quarter of all smokers in the UK.
"There is going to be a huge amount of confusion when many smokers attempt to buy menthol cigarettes next week. Retailers are going to be faced with a lot of frustrated customers."
East London independent retailer Kay Patel said that while most adult smokers said they did know about the ban, there were very "low levels of awareness about the actual date," something which he and store staff were attempting to rectify, despite the current social distancing challenges.
"Preparing for the ban is a real challenge with the pandemic, ordinarily we would be trying to prepare for all the possible changes that it might bring but the reality is that at the moment its hard to focus on much more than just getting through day to day," he said.
For more insight from Kay and Alice, there is still time to register for the Future of Tobacco Retailing webinar, available to view free on demand. Manufacturers including Philip Morris and JTI have also created websites designed to help retailers through the changes.
The menthol ban is part of the EU Tobacco Products Directive 2014 and will remain in force after the end of the transition period for leaving the EU comes to an end on 31 December 2020.
It is the latest step in the government's tobacco control strategy designed to reduce youth uptake of smoking and encourage quitting, as it seeks to achieve a "Smokefree England," by 2030.