Retailers have just two days left to sell through any old, non-Track and Trace-compliant tobacco packs, before the new legislation is enforced on 20 May.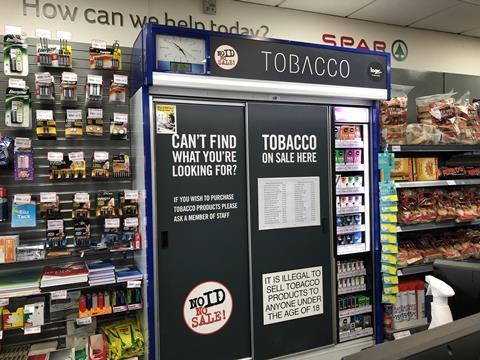 From 20 May, retailers will also no longer be able to buy tobacco through any legal channels, unless they have the necessary Economic Operator Identifier Code (EOI) unique to their business and Facility Identifier Codes (FIC) for each of their stores.
As of the end of April 2020, the UK's ID issuer De La Rue had issued over 42,000 EOIDs and almost 65,000 FIDs, HMRC told C-Store.
The system came into force on 20 May 2019 and the legislation provided for a 12-month sell-through period for unmarked packets of cigarettes and hand- rolling tobacco.
"From 20 May 2020, all packets of cigarettes and hand rolling tobacco sold in the UK must be marked in accordance with the legislative requirements," a spokesman for HMRC said.
"The track and trace system is an important step in our efforts to combat the illicit trade in tobacco products and there are no plans to change these requirements.
"Any business involved in the trade of tobacco products must obtain an EOID from the UK ID Issuer De La Rue, and FIDs for any location where tobacco products are sold from, stored or manufactured," he added.
For more guidance on the tobacco Track and Trace requirements and to register for EOIDs and FICs click here.
Meanwhile, wholesalers of tobacco products are warning that their customers could be turned away empty-handed from Wednesday.
Under the tobacco track and trace system, retailers will not be able to purchase cigarettes and rolling tobacco from members of the Federation of Wholesale Distributors after May 19 unless they have registered for an Economic Operator Identifier Code (EOID). FWD wholesalers report that despite the system coming into operation 12 months ago, some retailers have not yet applied for EOID and are still attempting to purchase tobacco without it.
FWD chief executive James Bielby said: "The systems are now in place and the message from HMRC in unambiguous: while they will work with wholesalers and retailers who are having technical difficulties, they will also start to use the penalties available for deliberate non-compliance, which we welcome."
"It's vital that tobacco retailers apply for and receive their EOID before attempting to make purchases from our members' tobacco rooms."
Tobacco Track and Trace
The tobacco Track and Trace regulations are part of the EU Revised Tobacco Products Directive (2014/40/EU).
They have been designed to combat the illicit tobacco trade by helping the authorities track the journey of legitimate stock through the supply chain and more-easily identify illicit products.
From 20 May 2020 all unit packets of cigarettes and hand rolling tobacco for sale on the UK market must have the new Track and Trace- compliant features including Unique Identifiers on the packaging and five specific security features.
From May 2024, this will apply to all products containing tobacco.
Once the Track and Trace system is in operation, HMRC will have the power to deactivate retailers' EOIDs for breaches of tobacco product guidance and convictions or offences relating to customs and excise Acts.